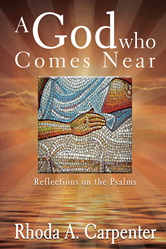 "If you want to really know God, read the psalms!…The psalms reveal the heartbeat of a people longing for hope in a broken world…The psalmist gives voice to authentic hope found in God's very nature: He is a God who so loves he comes near—a God who hears and answers the cries of his people."
SIOUX FALLS, S.D. (PRWEB) September 11, 2019
A God Who Comes Near: Reflections on the Psalms is Rhoda A. Carpenter's new book published by Elm Hill about how the psalms in the Old Testament give readers a glimpse into the psalmist's love and thankfulness towards God. These artistic verses reflect on the psalmist's hope despite the personal and socio-political issues occurring during the time the psalms were written. The author also analyzes the differences and similarities of these verses according to their Psalter, and she shares how the original Hebrew translation of "psalms" can more accurately capture the implication that the book of Psalms and the praises written in it are intended for God alone.
"The goal of these reflections is to reawaken awareness of both the beauty of the psalms and their ability to speak truth into our contemporary culture," says the author as she explains the purpose of her book. "The assumption and the urgency underlying my writing is the increasing loss of relevance of the psalms for individuals and churches today."
Other than expressing joy and supplication to God, the verses in the Book of Psalms have been used as a means to lament in times of pain and distress. Jesus himself lamented using some of these verses before and during his crucifixion. In a way, psalms serve as a connection between some events in the Old and New Testament, which come full circle during the latter.
Rhoda urges readers to reflect on these lyrical messages of hope in spite of the state of the world, as done by God's people millennia ago. She explains common themes in the Book of Psalms that help us understand God's nature, including the recognition of God as the king of kings and the only true refuge of His people. This means that it is only God who can rule with compassion and righteousness, and He is the only source of strength we need to carry on in times of great difficulty.
"If you want to really know God, read the psalms! Painted in timeless poetic word and image is a picture of his deep love. From the opening psalm to the last hallelujah, the poetry of the psalms illuminates the story of scripture," Rhoda presents in her book that psalms create images in our minds that allow us to get to know God on a deeper level. "The psalms reveal the heartbeat of a people longing for hope in a broken world… The psalmist gives voice to authentic hope found in God's very nature: He is a God who so loves he comes near—a God who bends his ear to listen—a God who hears and answers the cries of his people."