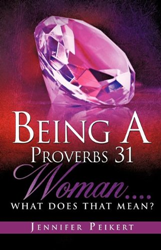 Submission is not being weak and a doormat for our husbands. Submission is something we should do to honor God
FORT WORTH, Texas (PRWEB) June 09, 2020
Jennifer Peikert's book, Being A Proverbs 31 Woman… What Does That Mean? ($14.99, paperback, 9781606475904; $23.99, hardcover, 9781606476512; $7.49, e-book, 9781619041653), is available for purchase.
In Being A Proverbs 31 Woman… What Does That Mean?, Jennifer explains the truth of the Word of God concerning a Proverbs 31 woman. Readers are going to learn what it really means to be a Proverbs 31 woman and how to fulfill this role.
God has instructed us through His Word on all that He wants us to do and on the importance of obedience to His Word. As women read this book, they will learn how to be truly fulfilled as a woman and a wife, and how to have an amazing, satisfying marriage. They will also learn the rewards of obedience and the importance of putting God first and foremost in their lives and in their marriages.
"Submission is not being weak and a doormat for our husbands. Submission is something we should do to honor God," said author Jennifer Peikert.
Jennifer Peikert and her husband Jay got married at the ages of 16 and 17 and they have had a successful, happy, flourishing marriage for 31 years. Placing God first and foremost in their lives has been their focus, and submission, honor, and respect are things that have helped them have a successful marriage. God has imparted to Jennifer the revelation of what submission is all about and she believes that she is to pass on this revelation so that others can have the same success she and her husband have had. Jennifer and Jay have three sons, a daughter-in-law, and a granddaughter, all who serve and love God. Jennifer has also written another book titled Daughters Of God…… Modesty Matters. She is currently working on another book as well.
# # #
Xulon Press, a division of Salem Media Group, is the world's largest Christian self-publisher, with more than 12,000 titles published to date Being A Proverbs 31 Woman… What Does That Mean? is available online through xulonpress.com/bookstore, amazon.com, and barnesandnoble.com.