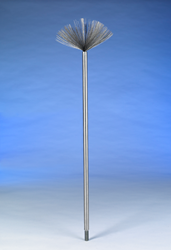 CLEARWATER, Fla. (PRWEB) December 05, 2018
The first two types of systems protect structures by providing zones of protection over that structure. The zone of protection is defined as the space adjacent to a lightning protection system that is substantially immune to direct lightning flashes. Think of it as a volume of space around a lightning rod wherein lightning will attach to that lightning rod in preference to anything else around it. Conventional lightning protection consists of a network of lightning rods interconnected by conductors leading to a grounding system. As long as the entire protected structure is located within a lightning rod zone of protection, the claim is that lightning will always attach to a lightning rod and be harmlessly conveyed around the protected structure to ground, thereby sparing damage to the protected structure.
It is helpful to remember that the primary purpose of a conventional lightning rod system is to keep the protected structure from burning down. That is why lightning protection is covered under the National Fire Protection Association standard, NFPA 780. This technology was introduced by Ben Franklin, and goes back almost 250 years, essentially unchanged since then.
The third type of system claims to protect a structure by reducing the difference in potential between the cloud and ground sufficiently to prevent a strike or through creating a space charge above the structure, creating a shield through which lightning cannot travel. This system is based on patents going back to the 1830's, including one issued in 1918 to Nikola Tesla. Many of these patents addressed lightning protection for petroleum storage tanks. However, the systems described in these early patents never achieved general acceptance. Lightning prevention systems described in more recent patents have not enjoyed general acceptance, and are the subject of much controversy.
There is also a fourth type of system, the Lightning Master streamer-delaying system, also called a streamer retarding air terminal (SRAT) system. This system builds on the concepts of the Franklin rod system approach but uses enhanced air terminals (lightning rods) to delay the formation of lightning-completing streamers.
Each air terminal is equipped with a plurality of small radius dissipation electrodes extending from its tip. These electrodes greatly enhance dissipation of ground charge to the atmosphere. Lightning attachment is determined by streamer formation. Whichever object emits the best streamer, wins. These small radius points break down into corona under a much lower potential (voltage) than a rounded or even pointed conventional lightning rod, dissipating the ground charge to atmosphere.
In its primary mode, the SRAT dissipates the ground charge that would otherwise form a lightning-completing streamer, reducing the likelihood of direct lightning attachment.
If the ground charge rises too quickly or too high, the dissipation ability of the air terminal may be exceeded. In that event, the air terminal reverts to its secondary mode of a conventional lightning rod. Since the SRAT is located at the top of the structure as required by both NFPA 780 and UL 96A, and it is already saturated with streamer constituting ground charge, the SRAT then emits a streamer, reliably collecting any strike and conveying it to ground over the lightning protection system.
The effectiveness and reliability of this approach has been documented by numerous users over the past 30+ years this system has been available.
MEETING INDUSTRY STANDARDS
Lightning Master SRAT's are designed and intended to be used as part of a NFPA 780 or UL 96A system. This system employs all of the components of a NFPA 780 system, meets the requirements of both NFPA 780 and UL 96, and uses all UL Listed components. As such, a completed installation is eligible for a UL Master Label, the gold standard in lightning protection.
Underwriters Laboratories, the lightning protection industry NRTL, has confirmed that Lightning Master streamer delaying air terminals meet the requirements of NFPA 780, are UL Listed to meet the requirements of UL 96, and provide a zone of protection exactly the same as any other lightning rod.
Established in 1984, Lightning Master is a global, full service manufacturing company specializing in lightning protection, static solutions, surge protection and grounding.
To read the full white papers click here.