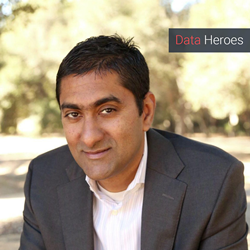 "Just like Sales and Marketing teams have their own 'stack' of SaaS tools and platforms, research also has its own set of tools and technology that teams can use to understand consumer behavior and attitudes." - Vivek Bhaskaran, CEO of QuestionPro
LOS ANGELES (PRWEB) January 22, 2022
ResTech - or research technology - is the rapidly growing field of data-driven analyses of consumer behavior and attitudes. QuestionPro is one of the pioneers of ResTech, collecting over 20 million surveys a month. Each survey has an average of 20-30 data points, which means that they are gathering about 100 million opinions a month. People give their opinions about topics ranging from their employers and workplace to ad-testing and research. QuestionPro serves as a steward of the data that keeps their customers in business; this amount of consumer survey data needs to be guarded carefully. Vivek Bhaskaran, CEO of QuestionPro, does not take this responsibility lightly. From his standpoint, "Our fundamental ability to collect, store and analyze this data is what we are in business for. If we can't take this as our primary responsibility, we would not be in business."
Security and compliance in the world of data is a core business issue and is always top of mind. It is not only important in cases of gathering highly sensitive information, such as identity data; all of QuestionPro's customers want to ensure that their data is safe. Vivek breaks down these issues into two: data residency and data security. In terms of data residency, Vivek explains that they have data centers in multiple locations, including the EU, Middle East, and Australia. For all of their government businesses in the US, they have a specific US Federal Government approved data residency. This means that they can deploy their software with residency requirements that helps their customers not only with compliance but with enforcing local data principles.
When it comes to data security, Vivek explains that QuestionPro isolates all the data they collect on a per-customer basis. Their cloud-native solution enables this by default. Vivek stated, "We've been in business for over 15+ years without a single breach. Yes – we've had DDOS attacks on us, but we've never lost or been hacked so far. We continuously invest in best practices around security engineering and internal training."
Understanding how to maintain top data security is just one tool in QuestionPro's toolbox. Another is "ResTech," which refers to research technology. This is a research arsenal that describes the tools used to analyze data and draw insights. As Vivek says, "It's not a bunch of random tools with Excel – but actually a set of software tools and services that work together and solve different functions of the primary research ecosystem. Just like Sales and Marketing teams have their own 'stack' of SaaS tools and platforms, research also has its own set of tools and technology that teams can use to understand consumer behavior and attitudes." Any team needs to understand what tools they have at their disposal, and this is no different.
QuestionPro has grown into a truly global business, and its goals are only getting bigger in 2022. Vivek thinks that they will finally see a mechanism for companies to merge CX, UX, and MRX (research) data into a single cohesive model. He explains, "Even today, the CX and Research functions in an organization don't talk to each other – but with the advent of research repositories – this mechanism is finally possible."
In discussing QuestionPro's future, it makes sense to address their valuation as well. In the world of startups, the term "unicorn" refers to companies that have a valuation of over $1 billion. Vivek addressed the idea of what it means for a startup to become a unicorn and if he had plans to make his own company one: "'Unicorn' is such a VC term – they invented them to make themselves bigger and to inflate their own egos. We've been consistently growing for the last 10 years. Yes – we've had our bad years and great years and we've been profitable all this while. That being said, we are at about 300 employees right now. I would love QuestionPro to grow every year. Can we double revenue every year? – probably not. But if we can grow at a healthy 30-50% every year, I would be super amped!"
Along with other digital communities, data communities play a crucial role in bringing down barriers by providing use cases, datasets, and professional opinions from data experts all in one place. Find useful data and learn how to use the data you have. Whether you are a data leader, involved in data analytics, or a decision-maker needing to show growth, the DataHunters community is here to help you power your decision-making with the right data.