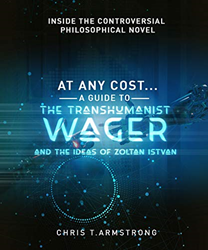 How far would you go to preserve your life?
KANSAS CITY, Mo. (PRWEB) January 26, 2021
At Any Cost is Chris Armstrong's long awaited skeleton key to The Transhumanist Wager by Zoltan Istvan. Armstrong's guide is indispensable for those who want to fully grasp the scope, implications, and meaning of Istvan's groundbreaking novel.
Psychology Today asserts that Jethro Knights, the protagonist of The Transhumanist Wager, may be "one of the grand characters of modern fiction." IEET calls it a "marvelous work of science fiction" and Serious Wonder dubs it a "riveting masterpiece that will long linger with anyone who reads it."
Istvan, a former journalist for the National Geographic Channel who invented the sport of lava surfing, is cast from the same mold as his protagonist. In Vietnam he nearly stepped on a landmine. After being tackled to the ground by his guide, "it was then", he says, "that I decided that it was time to really dedicate myself to stopping death – stopping death for me and stopping death for my loved ones."
Istvan's book poses a series of pressing questions. How far would you go to preserve your life? Do you want to live forever? Has technology gone too far or not far enough? Would you go to war with the world, nuclear weapons included, to safeguard your existence and ideals? Can religion and science be reconciled, or must the two settle their differences with bloodshed?
The quest for eternal life is as old as our awareness of our mortality. The ongoing struggle between man and machine is already familiar, but cryonics, mind-uploading, and quantum archaeology are not yet everyday topics of conversation. Prominent figures from the Transhumanist movement, like FM-2030, are also unknown to the general public. As a novel of ideas, background information is needed to understand the motives, actions, and thoughts of the characters.
This is where At Any Cost: A Guide to The Transhumanist Wager and the Ideas of Zoltan Istvan comes to the rescue. By providing character profiles, a timeline, and examinations of common misinterpretations, Chris Armstrong gives readers a foundation for a deeper appreciation of Zoltan's best-selling novel. From the themes to its influences, At Any Cost does a commendable job of unpacking a conceptually-dense work of fiction.
Armstrong asks: "If we guide our own evolution to a far greater degree, via advanced science and technology; If we merge with technology and gradually become less biological, will we still retain our human essence?
Do we need/want to? Could we transform ourselves into enhanced beings and leave behind our human frailties, create abundance where once was scarcity, become more intelligent, compassionate, less tribalistic and prone to violent conflict? These are the aspirations of transhumanism."
Istvan's and Armstrong's texts are nuanced. It is not just a struggle between Jethro and the Reverend Belinas or the interpretations of Transhumanism by Knights and his wife. Armstrong expertly captures and examines these subtleties. Far from two-dimensional, At Any Cost, like The Transhumanist Wager, is "deep, debatable, and thought-provoking." It is, as producer Johnny Boston puts it, like Armstrong himself: "thoughtful, fun, and insightful."
Amazon Paperback Link: https://www.amazon.com/dp/1735339105/ref=cm_sw_em_r_mt_dp_eTmcGbXVMZ087
Amazon eBook Link: https://www.amazon.com/dp/B08TBC3K6W/ref=cm_sw_em_r_mt_dp_JABcGbP1V4D6B
Amazon Paperback ASIN: 1735339105
Amazon eBook ASIN: B08TBC3K6W
Website: http://transhumanistwagerguide.com/
Author email: transhumanistwagerguide@gmail.com
Social Media:
https://twitter.com/Chris_Armstrong
https://www.instagram.com/carmstrong1959/
https://www.facebook.com/At-Any-Cost-by-Chris-T-Armstrong-105838561504023
Amazon book release 1/26/2021
The eBook will be free on Amazon for 3 days 1/26/2021 through 1/28/2021.
Genre keywords:
nonfiction, transhumanism, literary criticism, futurism, philosophy
Book Title:
At Any Cost: A Guide to The Transhumanist Wager and the Ideas of Zoltan Istvan
Author bio:
A former software engineer with academic backgrounds in computer science and musicology, Chris Armstrong now dedicates himself to writing about Transhumanism, finding publication in outlets such as IEET, Humanity Plus, and the India Future Society. He recently contributed to The Transhumanism Handbook, a Springer manual edited by Newton Lee.
------------
Praise for, At Any Cost…
"Great work! I especially appreciated your discussion of quantum archaeology speculations, Zoe's "quantum zen" spirituality, and the creative tension between Jethro's and Zoe's worldviews. I think your book is a very useful complement to Zoltan's book."
—Giulio Prisco, futurist and cosmist.
"This superbly-organized guidebook to The Transhumanist Wager - utilizing extensive interviews - reveals the book's debt to Ayn Rand, Herman Hesse, Friedrich Nietzsche, and others. Opens with an enjoyable introduction explaining Armstrong's personal and emotional attachment to Istvan's philosophical ambitions."
—Hank Pellissier, Director - Humanist Global Charity
"Chris Armstrong's work is an essential companion to The Transhumanist Wager by Zoltan Istvan. It is well-written, thoughtful, and insightful. In particular, Armstrong leverages extensive personal communication with Istvan to illuminate the meaning of the text and the evolution of its author. For example, I was particularly pleased to learn from Armstrong that Istvan's view of religion has evolved away from expectation of hostility toward interest in collaboration."
—Lincoln Cannon, Founder of the Mormon Transhumanist Association, CEO of Thrivous
"Rarely does one see philosophy and passion so linked as in Chris Armstrong's deep but thoroughly readable investigation into the world of Transhumanism as elucidated by one of its most imaginative proponents, novelist Zoltan Istvan. No dive into this fascinating topic would be complete without Chris Armstrong's joyful explorations."
—Lisa Popeil, Musician, Vocal Coach, Author, Anti-Aging Enthusiast
"Zoltan Istvan is one of the most prominent figures in modern transhumanism. Many readers of 'The Transhumanist Wager' have wondered: is the protagonist, Jethro Knights, really Zoltan in disguise? Chris Armstrong's 'At Any Cost' delivers both a masterful exploration of the themes of the novel and a nuanced appreciation of the ways that Zoltan is - and just as critically, isn't - Jethro Knights. Highly recommended."
—David Pearce, Transhumanist philosopher and author of The Hedonistic Imperative (1995)
"Chris Armstrong dissects Zoltan Istvan's novel The Transhumanist Wager in a most revealing and analytical fashion. In so doing, Chris has raised important questions and shared insightful knowledge about the ideals and pragmatism of Transhumanism. Chris' book is a must read even if you have not read Zoltan's novel!"
—Newton Lee, President, Institute for Education, Research, and Scholarships
"I think this is a great dissection of all the characters and concepts in the Transhumanist Wager. It's a very insightful companion piece to the original work that both defends and critiques its events through a philosophical lens."
—Rich Lee, Biohacker
"Chris's book is the quintessential study of the Transhumanist Wager and one we need for the real transhumanist movement."
—David J Kelley, Technologist/Futurist, Lead Researcher at AGILaboratory, Executive Director for BICA•AI and Senior Architect for BCG's Product group.
"Detailed, deep, debatable and thought-provoking. In total, this is a great book and Zoltan must be proud of you."
—Dr. Ali Mirenayat, Senior lecturer of English Literature at Qilu University of Technology, China.
"In keeping with Chris's personality, this book is thoughtful, fun, and insightful."
—Johnny Boston, Futurist. Filmmaker. Founder and CEO of @RawMediaNetwork.
###