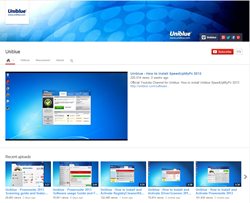 (PRWEB) September 27, 2013
With customer service always a priority, Uniblue is happy to announce the launch of its YouTube channel. The videos on the channel are intended to guide customers through common procedures such as downloading, installing and registering Uniblue products, as well as troubleshoot any software issues. Videos will also include in-depth looks at the products themselves, so that Uniblue customers can get the most out of their software upon purchase.
"YouTube's reach is incredible, to say the least, and we feel that it is one of the best ways to build up a relationship with our clients," explained Simon Birch, Marketing Manager at Uniblue. "We've also realized how much easier having an aural/visual guide to using the products is for our customers, and we're looking forward to finding new ways to catering to their needs."
In addition to the YouTube channel, Uniblue also have a frequently-updated Facebook page and Twitter feed which users can make the most out of. To have a look at the first of the videos Uniblue has produced, visit http://www.youtube.com/user/TheUniblueSystemsLTD.
About Uniblue
Uniblue Systems Limited is a creator and provider of award-winning software products designed to deliver superior performance and stability to PCs everywhere. Uniblue has come to be known as the thought leader in the utility software market. The company's products, services, resources and help guides such as Processlibrary.com are recommended by IT experts as definitive reference points for ensuring consistent computer functionality. Uniblue is a customer-oriented company and provides support in several languages. Uniblue software benefits do not end at great software - customer satisfaction is a priority which Uniblue takes pride in.
Uniblue offers a 60 day money back satisfaction guarantee for all its purchased products.