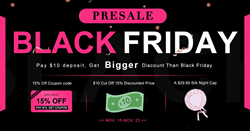 UNice, a leading wholesaler, specialized in selling virgin real human hair products is having a Black Friday sale 2020 offering a great discount – up to 15% Off.
CULVER CITY, Calif. and BROOKLYN, N.Y. and CARSON, Calif. (PRWEB) November 24, 2020
UNice is a leading wholesaler, specialized in selling virgin real human hair products such as human hair wigs, hair extensions, hair weave etc. at affordable prices.
"It's not about what we sell, it's about the essence of the natural beauty the product represents to our customers and how it makes them feel and look." This is what their CEO, Mr. Hua says about the company's philosophy. Their main goal is to provide their customers with hair products that look and feel natural.
This is the best online wig store selling high quality products made of 100% virgin human hair. Right now they are having Black Friday Sale 2020 and offering a big discount – up to 15% Off. They have a wide variety of wigs for black women including the products below.
Headband wig– Headband wig is perfectly suited for African American women. They're quick and convenient hairstyles. No lace no glue. You can choose different headband for different occasions. UNice offers them in different textures like body wave, natural wave, water wave, curly and straight.
Lace front wigs – For the most natural look with wigs it's best to choose a lace front wig. A lace front wig is a wig that has a thin, nearly invisible lace material to which hairs are tied in one by one. The result is very natural looking hairline and the illusion that the wig hairs grow from your scalp. UNice has the broad assortment of the highest quality lace front wigs in various textures: curly, body wave, straight hair, bob wigs, water wave and kinky hair.
Sew in hair – This company offers best sew in hair extensions. This type of hair extension is popular because it's the most permanent and seamless, as the hair is literally sewn into your own hair and cannot come off. With sew in hair, you can change your length, volume, hair color, and texture with minimal upkeep.
Bob wigs– Women love this type of wigs because they bring someone's facial details into focus. These wigs are available in different styles and designs: curly, straight, water wave, kinky, etc.
Half wigs – Half wigs are a great way to add volume, length and celebrity-style glamour to your own natural locks. These wigs are a nice way to use your natural hair to its best potential, allowing your face to be framed by the natural beauty of your own hair whilst the half wig creates a fabulous fullness from the crown to the back. UNice human hair half wigs comes in various styles, wavy half wigs, curly half wig, kinky curly half wig, and other half wigs hairstyles. They are 100% human hair half wigs.
U part wigs – U part wigs are easy to wear hair extensions that blend perfectly with your hair. They can be dyed, curled, and straightened, and they will return to their original texture. U part wigs look very natural, they are convenient to use and versatile, and that's why they are very popular among users. This is an ideal item for those who dream about a thicker and fuller hair. On UNice you can find different styles including kinky straight u part wig, body wave u part wig, kinky curly u part wig and more.
About UNice.com
UNice is one of the industries supplying leader in virgin real human hair. They are specialized in selling hair products such as hair wigs, hair extensions, hair weave etc. made of 100% virgin human hair at affordable prices.
Contact info:
Person: UNice Customer Service
Company: Xuchang UNice Hair Products Co.,Ltd
Address: UNice Westfield|Culver City CA,UNice Brooklyn NY,UNice Carson CA
Tel: +8617639072910/(626) 782-4321
Site: https://www.unice.com/
Email: support@unice.com