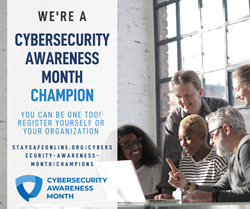 Unicon joins a global effort to promote the awareness of online safety and privacy and provide a safer, more secure, and more trusted Internet as a critical component of the Learner Journey.
GILBERT, Ariz. (PRWEB) October 06, 2020
Unicon, Inc., a leading technology consulting firm, today announced that it has become a 2020 Champion of National Cybersecurity Awareness Month (NCSAM). Focused on the education ecosystem, Unicon evaluates, designs, implements, and supports learner-centric digital experiences that transform online teaching and learning. In becoming a 2020 NCSAM Champion, Unicon joins a global effort to promote the awareness of online safety and privacy and provide a safer, more secure, and more trusted Internet as a critical component of the Learner Journey.
Held annually in October, NCSAM is a multi-layered and far-reaching campaign among businesses, government agencies, colleges and universities, associations, nonprofit organizations and individuals. It was created as a collaborative effort between government and industry to ensure all digital citizens have the resources needed to stay safer and more secure online while also protecting personal information. The theme for 2020 is 'Do Your Part. #BeCyberSmart,' helping to empower individuals and organizations to own their role in protecting their part of cyberspace. As an official Champion, Unicon demonstrates its commitment to every facet of the learner experience, including cybersecurity, online safety, and privacy.
NCSAM was co-founded and led by the National Cyber Security Alliance (NCSA) and the U.S. Department of Homeland Security (DHS). It has grown exponentially since its inception, reaching consumers, small and medium-sized businesses, corporations, government entities, the military, educational institutions, and young people nationally and internationally. Now in its 17th year, NCSAM continues to build momentum and impact co-led by NCSA and the Cybersecurity and Infrastructure Agency (CISA). For more information about NCSAM 2020, the Champion program, and how to participate in a wide variety of activities, visit https://staysafeonline.org/cybersecurity-awareness-month/. You can also follow and use the official NCSAM hashtags #CyberAware or #BeCyberSmart on social media throughout the month.
About National Cybersecurity Awareness Month
NCSAM is designed to engage and educate public- and private-sector partners through events and initiatives with the goal of raising awareness about cybersecurity in order to increase the resiliency of the nation in the event of a cyber incident. Since the Presidential proclamation establishing NCSAM in 2004, the initiative has been formally recognized by Congress, federal, state and local governments and leaders from industry and academia. This united effort is necessary to maintain a cyberspace that is safer and more resilient and remains a source of tremendous opportunity and growth for years to come. For more information, visit staysafeonline.org/cybersecurity-awareness-month or cisa.gov/national-cyber-security-awareness-month.
About NCSA
NCSA is the nation's leading nonprofit, public-private partnership promoting cybersecurity and privacy education and awareness. NCSA works with a broad array of stakeholders in government, industry and civil society. NCSA's primary partners are DHS and NCSA's Board of Directors, which includes representatives from ADP; Aetna; AT&T Services Inc.; Bank of America; CDK Global, LLC; Cisco; Comcast Corporation; ESET North America; Facebook; Google; Intel Corporation; Logical Operations; Marriott International; Mastercard; Microsoft Corporation; Mimecast; NXP Semiconductors; Raytheon; RSA, the Security Division of EMC; Salesforce; Symantec Corporation; TeleSign; Visa and Wells Fargo. NCSA's core efforts include National Cyber Security Awareness Month (October); Data Privacy Day; STOP. THINK. CONNECT™; and CyberSecure My Business™, which offers webinars, web resources and workshops to help businesses be resistant to and resilient from cyberattacks. For more information on NCSA, please visit staysafeonline.org/about. You can also find them on Facebook and Twitter.
About Unicon
Unicon is a leading technology consulting firm focused solely on the educational ecosystem in K-12, Higher Education, and Workforce. Unicon is a Contributing Member of the IMS Global Consortium, a Commercial Affiliate of the Apereo Foundation, a Trust and Identity solutions provider in the Internet2 Industry Program, an Industry Member of the Internet2, an InCommon Participant, Instructure Certified Partner, an Okta Premier Solutions Provider, a community member of the Ed-Fi Alliance, and a GSA Industry Partner. Unicon is also an AWS Partner Network (APN) Advanced Consulting Partner, has achieved the AWS Education Competency, and is a member of the AWS Public Sector Partner Program. Unicon has also achieved ISO 27011:2013 certification across its professional services, cloud services and company operations. For more information, visit unicon.net.
# # #
Unicon is a Registered Trademark of Unicon, Inc. All other product or service names are the property of their respective owners.