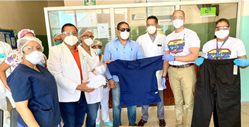 We are proud to serve the healthcare community and give to the healthcare heroes that are selflessly fighting to keep us safe.
FORT LAUDERDALE, Fla. (PRWEB) May 26, 2020
Uniform Advantage (UA), a multi-channel retailer of medical uniforms for medical and hospitality industries, has donated gift cards, personal protective equipment and fabric to caregivers in need.
A total of $164,000 in UA gift cards were donated to healthcare professionals that traveled to COVID-19 hot spots in the United States. Each gift card, valued at $65, was distributed by travel nursing agencies such as: Wanderly, Travel Nurse and Aya.
"As Covid-19 changed our industry, our travelers have had to switch gears quickly to fill needs all across our country. At Wanderly, we allow our traveling healthcare providers to compare various assignments as they choose the right assignment and agency to work with. They are truly doing heroic work, and the Uniform Advantage gift cards have allowed them to worry about one less thing throughout their day while simultaneously gifting them to show appreciation and support." Said David Deane, Vice President of Wanderly.
In addition to the gift card donations, Uniform Advantage has produced personal protective equipment for healthcare workers and local communities: team members and employees have stepped up to the task and have created more than 4,000 masks in a short span of time.
More than 10,000 scrub sets have been donated to various hospital and healthcare organizations worldwide in need.
"We are putting our mission of supporting those who support others into action," said Susan Masimore, Chief Executive Officer of Uniform Advantage. "We are proud to serve the healthcare community and give to the healthcare heroes that are selflessly fighting to keep us safe."
For more information on Uniform Advantage and their contributions and partnerships visit give.uniformadvantage.com, or to shop online, please visit http://www.uniformadvantage.com.
About Uniform Advantage
Uniform Advantage has represented style, quality and, above all, customer satisfaction for more than 30 years. As the first division of UA Brands, the chain was launched with a single South Florida store in 1985. Today, the company operates 29 retail locations in key markets across the U.S.; e-commerce and print catalog divisions; plus, designs and manufactures its own proprietary healthcare apparel lines. The company's corporate office is based in Fort Lauderdale, Florida with a distribution center near Atlanta, Georgia. Learn more at http://www.UniformAdvantage.com or by calling 800-283-8708.