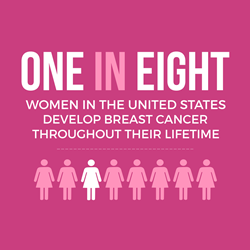 Awareness is the key to raising funds and ultimately finding a cure to this terrible disease
FORT LAUDERDALE, Fla. (PRWEB) October 27, 2018
Uniform Advantage (UA), a leader in the apparel industry has reintroduced their Paint Your Page Pink Campaign to support breast cancer awareness throughout the entirety of Breast Cancer Awareness month. UA will donate $1 for every new UA Facebook page like and for every new UA Instagram (@uniformadvantage) follower during the month of October 2018. All proceeds will be donated to the American Cancer Society (ACS) Making Strides organization.
"Uniform Advantage is overjoyed with pride to have donated to such an honorable cause such as Making Strides Walk by ACS", stated Lori Nadeau-Dunlap, VP of Marketing at Uniform Advantage. "Awareness is the key to raising funds and ultimately finding a cure to this terrible disease. As partners to healthcare professionals, it is part of our mission to contribute towards the goal of fighting cancer so that people can live long, fulfilling lives." UA has donated more than $50,000 to ACS Making Strides Against Breast Cancer, in addition to a donation of $14,750 towards Living Beyond Breast Cancer.
The Making Strides Walk was started in 1984 by a cancer survivor, Margery Gould Rath. The then "move-along-a-thon" had 200 participants in Boston and became the Making Strides Walk which draws eight million walkers from 270 communities throughout the United States. All UA funded donations will directly assist the ACS Making Strides organization in their mission to fight and end breast cancer through early detection, accessible mammograms, and information and services for their patients.
To find out more about the history and mission of the Making Strides organization, please visit the Making Strides website. For more information on Uniform Advantage's action to help and support breast cancer awareness visit our UA Gives Back page.
About Uniform Advantage
Uniform Advantage has represented style, quality and, above all, customer satisfaction for more than 30 years. As the first division of UA Brands, the chain was launched with a single South Florida store in 1985. Today, the company operates 29 retail locations in key markets across the U.S.; e-commerce and print catalog divisions; plus designs and manufactures its own proprietary healthcare apparel lines. The company's corporate office is based in Plantation, Florida with a distribution center near Atlanta, Georgia. Learn more at http://www.UniformAdvantage.com or by calling 800-283-8708.