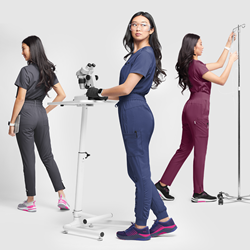 Healthcare professionals are always on the go. Scrubs with an airy feeling and moisture management are critical.
FORT LAUDERDALE, Fla. (PRWEB) February 22, 2023
Uniform Advantage (UA), a multi-channel retailer of uniforms for healthcare and hospitality, introduces WHISPERLITE, a new line of women's scrubs designed for ultimate comfort with a dash of fashion.
WHISPERLITE scrubs are enhanced by four-way stretch and recovery.
"The ability of this fabric to stretch in every direction and snap back again and again is remarkable," said Hawker. "These scrubs will move with you all day long without sagging or bagging out."
WHISPERLITE also has strong wicking and quick-dry properties to keep the wearer cool. The feather-light fabric makes WHISPERLITE ideal for warm conditions.
"We're in Florida, so not getting overheated is always top-of-mind for us," said David Hawker, VP of Product Development and Design. "But even where it isn't hot outside, healthcare professionals are always on the go. Scrubs with an airy feeling and moisture management are critical."
But the fabric isn't the only story. The WHISPERLITE line includes five tops (Zora, Alba, Aerin, Lyra and Dahlia), three pants styles (Calla, Semira and Isla) and a jacket (Eris) – each designed for function and flattery. Thoughtful details include dyed-to-match grosgrain ribbon accents, generous pockets and graceful ruching.
"So many scrubs still hold to a unisex aesthetic," Hawker said. "We wanted to break away and create something unmistakably feminine and pretty. Not too out there, though – because at the end of the day, these are still wear-to-work styles."
WHISPERLITE is sold exclusively by Uniform Advantage. Prices range from $24.99 to $49.99 and all styles are available at uniformadvantage.com and in Uniform Advantage retail stores across the United States.
About Uniform Advantage
Uniform Advantage has represented style, quality and, above all, customer satisfaction for more than 30 years. As the first division of UA Brands, the chain was launched with a single South Florida store in 1985. Today, the company operates 28 retail locations in key markets across the U.S.; e-commerce and print catalog divisions; plus, designs and manufactures its own proprietary healthcare apparel lines. The company's corporate office is based in Fort Lauderdale, Florida with a distribution center near Atlanta, Georgia. Learn more at http://www.UniformAdvantage.com or by calling 800-283-8708.