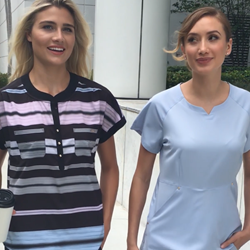 We aimed to create beautiful, fashionable and functional clothes for today's healthcare providers
FORT LAUDERDALE, Fla. (PRWEB) September 29, 2018
Multi-channel retailer of uniforms for healthcare and hospitality industries develops a premium scrub collection, designed with women's movement, comfort, and functionality in mind, with an assortment of styles, colors, and sizes.
This new contemporary collection boasts multi-functional features so that they can be worn to work and after. The Lauderdale Collection is modern and true to fit allowing for a full range of motion throughout the workday with its unrivaled stretch fabric.
"We designed this collection with technical innovation and forward-thinking design. We aimed to create beautiful, fashionable and functional clothes for today's healthcare providers," said David Hawker, VP of Product Development & Design.
With a varied palette of eight colors to wear, this new scrub collection presents an updated trim package, Champagne Gold finish on the zippers and buttons, and Uniform Advantage's first multi-fabricated scrub option. All pieces and fabrics have been created exclusively for LAUDERDALE by UA.
Lauderdale Scrubs are sold exclusively by Uniform Advantage. The collection launched with 5 styles named after notable streets in Ft. Lauderdale, Florida, such as Acacia, Revenna, Aurelia, Datura, and Desota. Now available at uniformadvantage.com and in all of the 29 Uniform Advantage retail stores across the United States.
About Uniform Advantage
Uniform Advantage has represented style, quality and, above all, customer satisfaction for more than 30 years. As the first division of UA Brands, the chain was launched with a single South Florida store in 1985. Today, the company operates 29 retail locations in key markets across the U.S.; e-commerce and print catalog divisions; plus, designs and manufactures its own proprietary healthcare apparel lines. The company's corporate office is based in Fort Lauderdale, Florida with a distribution center near Atlanta, Georgia. Learn more at http://www.UniformAdvantage.com or by calling 800-283-8708.