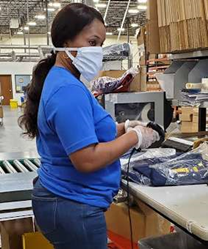 Providing a safe environment where our customers can comfortably shop is the absolute least we can do for our healthcare heroes.
FORT LAUDERDALE, Fla. (PRWEB) June 11, 2020
Uniform Advantage (UA), a multi-channel retailer of medical uniforms for medical and hospitality industries, has implemented new safety measures and protocols for its Corporate Office, Fulfillment, and Retail teams.
UA has reopened its retail stores nationwide while implementing new safety measures that include: requiring customers to wear a face mask and sanitize their hands upon entry, cleaning fitting rooms and bathrooms after each use, instituting a two day quarantine for all merchandise that has been tried on, as well as requiring staff to undergo health screenings at the beginning of each shift. In addition, sneeze guards have been installed at cash wraps and safety liaisons have been tasked with limiting the number of customers in store, while ensuring they adhere to the new protocols.
"Our customers are the very individuals on the front lines of this pandemic, and we can't help but to be proud of the selfless work they undertake," said Laura DiFeterici, Director of Retail Operations. "Providing a safe environment where they can comfortably shop is the absolute least we can do for our healthcare heroes."
Similarly, employees at Uniform Advantage's Fulfillment Center have been equipped with personal protective gear and hand sanitizing stations have been available throughout the facility, while environmental services have been doubled to promote cleanliness between shifts.
Corporate office team members, who are able to do so, have been empowered to work remotely from home, while Uniform Advantage's headquarters in downtown Fort Lauderdale is open for essential duties.
For more information on Uniform Advantage and their response to COVID-19 visit give.uniformadvantage.com.
About Uniform Advantage
Uniform Advantage has represented style, quality and, above all, customer satisfaction for more than 30 years. As the first division of UA Brands, the chain was launched with a single South Florida store in 1985. Today, the company operates 29 retail locations in key markets across the U.S.; e-commerce and print catalog divisions; plus, designs and manufactures its own proprietary healthcare apparel lines. The company's corporate office is based in Fort Lauderdale, Florida with a distribution center near Atlanta, Georgia. Learn more at http://www.UniformAdvantage.com or by calling 800-283-8708.