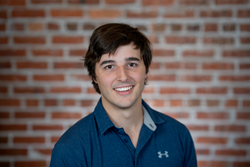 ORLANDO, Fla. (PRWEB) July 19, 2018
UniKey Technologies, world's largest smart access control platform provider, today announced the promotion of Will Holderness to Vice President of Product. He joined UniKey as an Embedded Software Engineer in 2013 and most recently served as Head of Product where he was highly instrumental in creating and maintaining the vision of the company's product offerings.
As Vice President of Product, Will leads the company's product and platform initiatives, including designing and building technical solutions that meet the demands of UniKey's partner products. Will is also responsible for defining the overall product strategy and roadmaps, establishing goals, and developing plans that meet business objectives. "In the nearly five years Will has been with UniKey he has played a key role in advancing and improving our platform and product offerings to our partners, including our latest KeyHero project with Hillman. His enthusiasm and strong technical knowledge continue to lead our success in the mobile access control space," stated Phil Dumas, Founder and CEO of UniKey.
Prior to joining UniKey, Will was a Software Engineer at General Dynamics for five years and worked in the defense sector on proprietary wireless networks and training systems for the Department of Defense. Will holds a Masters in Computer Engineer from the University of Central Florida, where he was involved in research programs in the Interactive Systems and User Experience Lab with a focus in wireless networking, artificial intelligence, and human-computer interactions.
About UniKey Technologies, Inc.
UniKey Technologies, the world's largest smart access control platform provider, is changing the way the world accesses everything by replacing the entire keychain with your phone. With the most secure and convenient mobile key platform, UniKey is empowering access control manufacturers with the tools to future-proof their legacy systems. Leveraging Touch-to-Open® and Inside/Outside Intelligence®, UniKey's platform powers an unparalleled, passive user experience. UniKey serves the access control industry by licensing its technology, and partnering with market-leading companies in the residential, commercial, automotive industries, and beyond. For more information on UniKey, please visit http://www.unikey.com.