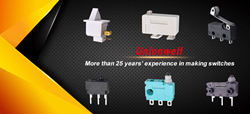 HUIZHOU, China (PRWEB) October 01, 2020
Unionwell, a leading China Micro Switch Manufacturer, is proud to announce the introduction of new micro switches and mechanical switches to its inventory. The company has recently set new production records, by producing more than 300,000,000 micro switches and mechanical switches per year in its Huizhou micro switch manufacturing facility. For more than 25 years, Unionwell has made highly efficient micro switches, waterproof switches, rotary switches, push-button power switches, and other types of switches.
China micro switch company, Unionwell, is renowned for offering high-quality micro switches. A micro switch is an object that responds to environmental changes by opening or shutting a set of shifting contacts to restrain an appliance. If the micro switch feels movement out of its environment, a plunger is pressed or released to start or close a circuit. The plunger actuator demands a particular quantity of force against it to alter the touching manner. Each micro-switch includes a plunger actuator to switch the contact style, but a lot of them possess an extra actuator like a float or sail, to feel the surroundings alter, such as fluid level or airflow. Unionwell manufactures many types of micro switches that come in various shapes and sizes and are being used in various domains such as electronic equipment, instrumentation, mining, power systems, household appliances, electrical equipment, and aerospace, aviation, ships, missiles, tanks and other military areas.
Mechanical switches are tactile switches that offer visual feedback when hitting on the actuation point. Unionwell manufactures 3 types of buttons, based on their attributes: linear switches, tactile switches, and clicky switches. Linear switches are mostly used in mechanical keyboards. These switches have various responses, sound, and travel times, making them appealing to players and heavy typists. Clicky switches give an added click audio, when hitting on the actuation point. Both tactile and clicky switches do not require to push the key down the way down to get feedback. Users can release the key immediately after receiving the feedback. When pressing a key, users can get immediate tactile feedback. Also, in many cases, they can get audio feedback in the form of the well-known clicky sound.
Unionwell products are known for their high quality, versatility, and durability. Their micro switches can be found in common household items such as electric ovens, dishwashers, hot water faucets, ice makers, and more. Their slide switches are commonly used in many applications, including consumer electronics, appliances, small equipment, computer servers, lighting devices, instrumentation, test and measurement devices.
About Unionwell
Unionwell is a top-level micro switch manufacturer in China. Headquartered in Huizhou, the company is particularly strong in the realization of high-efficiency micro switch series, waterproof switch series, rotary switch series, push-button power switch series, and other switch types alike. Their quality switches are fully tested and complied with UL, ENEC, EK, CQC laboratory certifications. The company's workshop covers than 22,000 square meters and manages an output of more than 300 million pieces per year.
For more information, visit https://www.unionwells.com.