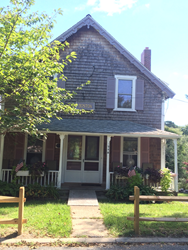 we like to share our gem with as many people as we can
CENTERVILLE, Mass. (PRWEB) February 28, 2019
Craigville Retreat Center announces a new variation on vacationing for summer travelers. The popular retreat is open up reservations for summer 2019. While Craigville Retreat can host groups in Lodges, the cottages are excellent options for family get-togethers. Cottages are less costly than comparative lodging and offer own cooking options. Craigville Retreat Center is the perfect place to host a summer family reunion at the perfect time of year.
People who book before April 30 for a June to August rental will receive a Craigville Welcome Basket with homemade goodies from the Retreats Kitchen. Each cottage sleep 8-15 guests, depending on the cottage. Multiple bathrooms, a kitchen, and living room are decorated in cozy New England decor.
"The summer cottages fill up fast and we like it that way as we like to share our gem with as many people as we can!" says on site staff director Matthew CastleMan. Craigville is located in the town of Centerville which is quaint and enjoyable. In addition to the beautiful landscapes, the Red Lily Pond Project which supports the natural waters and wildlife, may be of interest to those interested in local Cape Cod environmental sustainability.
Right now is the perfect time to book a summer cottage. The cottages are nestled into Craigville Village, a unique and charming enclave of Cape Cod homes overlooking Nantucket Sound. Craigville Retreat guests enjoy the benefits of the private Craigville Beach, with sand volleyball, clubhouse, changing rooms, restrooms and shower house, plus rental equipment for lounging and playing. As always the staff is happy to provide information on local happenings to retreat guests and cottagers.
To book a cottage call 800-678-5102 or visit uccr.org/craigville for more information
Craigville Retreat is managed by United Camps, Conferences and Retreats (UCCR), a non-profit camp and retreat management cooperative with 14 locations across the United States.