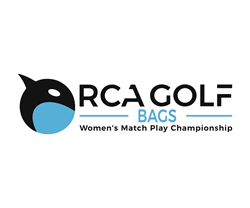 We know what it's like to fight for a seat at the table, so putting our name on this event matches our mission.
PONTE VEDRA BEACH, Fla. (PRWEB) October 29, 2020
Organizers announced today the creation of The Orca Golf Bags Women's Match Play Championship to be held at World Golf Village, October 26 through November 7, 2021. With the intention of shining a bright light on women's developmental level professional golf, World Golf Village will host a unique two weeks of tournament play as the centerpiece of what will be a celebration of women's initiatives on the course, in the boardroom and in the community. The tournament will be an official event on the Women's All Pro Tour (WAPT), and run as a collaboration between MediaShare Consulting Group of Ponte Vedra Beach and On the Green Consulting of Jacksonville, along with women's leadership organization, Generation W, adding a dynamic off-course women's initiatives programming.
The tournament series will feature 64 women professionals looking to fulfill their dream of playing on the LPGA Tour, battling over two weeks in two separate, but connected tournaments. The first week will feature a 54-hole Stroke-Play tournament on the King & Bear course, which will also seed the second week's event, a 64-woman Match-Play championship at Slammer & Squire. There will be no cut in the Stroke-Play event and all players will advance to the Match-Play tournament.
Each tournament will have its own prize purse, a guarantee of $50,000 shared between the two events. The winner of the match-play event will be the Orca Golf Bags Women's Match Play Champion, and in addition to cash prize money also receive a commemorative golf bag designed by Erica Bennett of Orca Golf Bags. The tournament series will feature a Pro-Am event, junior clinics and local community-based activities and fundraising opportunities.
In addition to the golf competition and with equal importance, the tournament will celebrate women's initiatives by providing programming such as leadership forums, executive networking and education. The programming will be developed and provided by GenerationW, a national non-profit based in Jacksonville Beach, whose mission embraces the guiding tenets of education, inspiration, and connection and the power of women's leadership.
The idea for the event came to light when Mark Berman, Managing Partner for MediaShare, began planning his daughter's rookie schedule for her professional career back in January of 2020. Berman noticed that there aren't a lot of playing opportunities for the scores of talented women coming out of college who are looking for a place to hone their games to get ready to try to qualify for the LPGA Tour. Further, when Berman began to add up the expenses of a developmental playing career, he also noticed a lack of scheduling efficiency that requires the players to typically crisscross the country, racking up expenses for flights, gas and hotel stays.
Erica Bennett, co-founder of Orca Golf Bags, the nation's only women-owned golf bag design company, said, "From the get-go we loved the vision of this tournament and knew we had to help make it happen. A tournament such as this was a goal of mine, as a golfer who did not have the opportunity when I was young. We are elated to have it happen in 2021." She continued, "As a women-owned business, we always root for the underdog. Whether it's in business or on the course, so very few of us start at the top, but those "phenoms" are the ones we typically hear about. Our whole message is to support the up-and-comer. We know what it's like to fight for a seat at the table, so putting our name on this event matches our mission."
The Orca Golf Bags Women's Match Play Championship series represents two of the 14 official events on the Women's All Pro Tour (WAPT) in 2021. The WAPT was established in 2019 in partnership with the LPGA's Symetra Tour. The WAPT is the Official Qualifying Tour for the LPGA's Symetra Tour, providing more opportunities for women to play professional golf and to advance their careers to the next level. "We are very excited to bring the WAPT to the Jacksonville area and in particular, the World Golf Village," says Gary DeSerrano, WAPT president. "We are certain the next stars of the women professional golf will look forward to this new and exciting event."
"The goal is to shine a light on this level of professional golf and create playing opportunities for these amazing young women," said Berman. "I've spent the last 12 years watching the evolution and development of some incredible female golfers, most of whom absolutely have the talent to play at the highest levels. What they lack are playing opportunities to help them develop and mature, so they "retire" after their college career, some even walking away entirely from the game they love and has shaped their lives."
To organize the women's initiatives, Berman reached out to friend, and women's leadership expert, Donna Orender, Founder and CEO of Generation W. "Generation W and it's girl-focused program, Generation WOW, provides the guidance, leadership and education that many girls – especially busy athletes – just don't get in college and high school. So, let's provide them value beyond just a place to tee it up, and while we're at it, let's bring in the business and local communities where the girls playing can learn and they can also be role models in our community. I couldn't be more grateful that Donna is going to provide the leadership on this part of the event."
Lon Grundy, General Manager for the golf courses at World Golf Village, both operated by Honours Golf, a division of Troon, was immediately enamored with the idea of hosting a women's professional event. His courses hosted a Korn Ferry Tour event earlier this year (the PGA TOUR equivalent of the LPGA's Symetra Tour), so he knows first-hand how important developmental tours are to the golf landscape. "Creating playing opportunities for these young women is important and matches well with our corporate culture at Honours Golf," commented Grundy. "If we can nurture the talent at this level and provide seats at the playing table, then who knows how many more girls continue to chase their dream?"
With a lot of moving parts to hosting 64 professional athletes and their entourages of families, caddies and coaches for two weeks, Berman enlisted On the Green Consulting, led by long-time friend and now-retired PGA TOUR veteran Tim Iley to handle much of the tournament operations. OTGC will work closely with Women's All Pro Tour, directing the day-to-day operations locally and with sponsors.
Admission to the tournament will be free to the public. Information on elevated hospitality opportunities, Pro-Am spots, tickets and key sponsorships, as well as, volunteering is available on the tournament website for the two-week event. "The more money we raise, the more we can add to the purse and to charitable donations," said Berman.
Information is available on the tournament website at http://www.TheOrcaGolf.com and by calling MediaShare Consulting Group at 904.838.4962. You may reach the office by email at mberman@mediashareconsulting.com.
###
About Orca Golf Bags and 17 Yards Golf, LLC
Headquartered in Fort Lauderdale (FL) The ORCA brand represents an ocean of inclusiveness for all golfers and those with an active lifestyle. Owned by17yards Golf, Orca is more than a business, it is about growing the game and encouraging more individuals to play. Like the ORCA, we too, are taking our place within the golf industry; with an Orca's presence, providing the best quality, custom-designed golf bags for every golfer. Our customers will also have their own custom-designed golf bag; one that is uniquely their own ORCA brand. Visit us at http://www.orca-golf.com.
About Generation W
Generation W, a registered 501(c)3, inspires women and communities to elevate their lives through leadership development, connection, inspiration and education. The Generation W platforms include: Generation WOW, a teen girl's leadership development and mentorship program; Generation W, a women's leadership program anchored by an annual event; WOWsdom! The girl's guide to the Positive and the Possible, a best-selling book and curriculum; and Generation WORKS, a day of community-wide service across Northeast Florida. To learn more visit http://www.genwnow.com.
About MediaShare Consulting Group, Inc.
MSCG was started in 2009 in Jacksonville, FL as a boutique marketing strategy company serving small to medium-sized business. MediaShare is designed to act as a fractionally-owned marketing department for just a few clients at a time. With sponsorship activation as a cornerstone of its philosophy, running its own events became a natural progression. MediaShare is a strong supporter of women's golf and women's initiatives, and proud to take a leap into the managing its first professional women's golf tournament.
About World Golf Village
As the official golf courses of the World Golf Hall of Fame, the King & Bear and Slammer & Squire at The World Golf Village Resort are award-winning championship courses designed to offer both enjoyment and challenge in a spectacular and unique resort setting. The King & Bear is the only golf course in the world to be co-designed by Arnold Palmer and Jack Nicklaus. The course offers a mixture of two different design styles that come together to form one masterpiece. The Slammer & Squire course was designed by architect Bobby Weed in conjunction with Hall of Fame Members Sam Snead (the "Slammer") and Gene Sarazen (the "Squire"). The course is a fun treat for players of all abilities. The World Golf Village Resort is located just a short drive from Jacksonville, Palm Coast, Daytona Beach, and Orlando. For more information on The World Golf Village Resort, visit http://www.golfwgv.com.
About On The Green Consulting, LLC
On The Green Consulting, LLC offers golf events of all sizes a wide range of consulting services to help maximize their goals and objectives, whether professional, amateur or charity. No matter how long an event has been on the calendar, or is even a startup, On The Green Consulting can help by offering a variety of golf event consulting services to meet your specific needs; site selection, contract negotiations, vendor procurement, long range financial planning, sales planning, site planning, staffing, collateral development and much more. Visit us at onthegreenconsulting.com
About WAPT
A subsidiary of K&G Sports LLC, the WAPT represents one of the best development opportunities for golf professionals in the USA to hone their competitive skills, while preparing for a life on the Symetra and LPGA Tours. Graduates of the WAPT include the LPGA Tour Yealimi Noh and Symetra Tour winners, Sarah White and Matilda Castren. Follow the WAPT on the web at http://www.wapt.golf, facebook.com/waprotour/, Twitter: @waptgolf, and Instagram @womensallprotour.