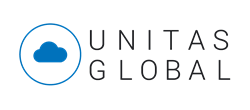 Unitas Global is laser-focused on helping its customers leverage cloud and cloud networking solutions to gain an edge.
LOS ANGELES (PRWEB) October 09, 2018
Unitas Global, one of the world's leading providers of enterprise cloud solutions, today announced the appointment of Scott Walker as Chief Marketing Officer. With more than two decades of experience driving sales and marketing programs for many of the industry's leading enterprise cloud companies, Walker will serve to strengthen Unitas Global's position in the managed cloud services marketplace. He will report directly to Patrick Shutt, CEO of Unitas Global.
"In just the last three years, Unitas Global has grown by more than 500 percent," said Patrick Shutt, CEO of Unitas Global. "To continue expanding our business, we need to apply a greater focus to sharing the stories of why our customers choose to partner with Unitas Global as they advance along their digital transformation journeys. Having been in the industry for more than two decades, Scott understands this better than most. He sees the value we bring to enterprises that are looking to use the cloud to gain a competitive advantage. We couldn't be more excited to have him on board to help our business reach the next level."
Prior to joining Unitas Global, Walker served in VP and director-level marketing and sales roles at companies across the cloud services sector. In his three years with Ericsson, Walker served as VP and Head of Cloud Infrastructure where he was responsible for a cloud infrastructure practice and launched the company's composable hyperscale system and edge computing platforms to support IoT and 5G readiness for service providers. Before joining Ericsson, Walker served as VP of Indirect Channels and Alliances at Equinix, where he was responsible for significant growth and was part of the key team that launched the world's first direct connect to public cloud capability with AWS. He's also held senior-level positions with Arcserve, AT&T Solutions, and Masergy.
"Having been part of world class teams throughout my career, one of the key lessons learned is that to build an effective cloud strategy requires a trusted partner who is focused on delivering financial and strategic outcomes for the customers we serve," said Scott Walker. "Unitas Global is laser-focused on helping its customers leverage cloud and cloud networking solutions to gain an edge. The company has a very compelling differentiated value proposition and is committed to helping its customers navigate the complexity of today's modern cloud infrastructure. I am ecstatic to be on a winning team that is ready to scale to new heights."
In his new role at Unitas Global, Walker will be responsible for leading all aspects of Unitas Global's multi-channel marketing strategy, including branding, demand generation, and sales enablement initiatives across the organization.
This is the latest development for a company that is having a milestone year. Just last month, Unitas Global was named to the Inc. 5000 List of the Fastest-Growing Companies in America for the second year in a row. The company has also been named to the CRN Fast Growth 150 list for 2018. And, earlier in the year, Unitas Global announced a major acquisition in Solinea, which will serve to strengthen the company's ability to provide customers with seamless cloud adoption for end-to-end hybrid cloud solutions.
For more information about Unitas Global, please visit http://www.unitasglobal.com.
About Unitas Global:
Unitas Global is a leading provider of enterprise hybrid cloud solutions. The company's solutions provide clients with custom, highly secure, and dedicated cloud-based IT environments that are easy-to-consume, fully managed, and backed by an end-to-end SLA, guaranteeing application uptime. By off-loading day-to-day infrastructure operations to Unitas Global, enterprises are able to refocus and optimize their internal IT resources toward their business-centric initiatives. Unitas is headquartered in Los Angeles, with clients and locations spanning the globe. For more information, please visit http://www.unitasglobal.com.