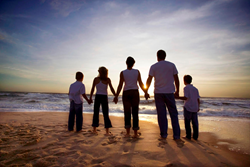 The 2021 festival season reflects the goal of a life-long spiritual journey...to seek first the Kingdom of God
CINCINNATI (PRWEB) September 14, 2021
In deep contrast to today's time of pandemic-fueled trauma, multiple conflicts, political upheaval, and societal division, members and families of the United Church of God, an International Association, will gather this month to observe a time foretold in the Bible of coming global peace. The Church will observe the Christ-centered biblical Festival of Tabernacles September 21-28, an eight-day season that portends a future time of unprecedented harmony and reconciliation.
Church members follow the historic example of Jesus Christ and the first century Church in observing this time of celebration. A modern understanding of the Hebrew Festival biblically portrays the coming Kingdom of God, as foretold by Jesus Himself.
The 2021 festival season reflects the goal of a life-long spiritual journey of Christians, who are taught by Jesus from the Bible to "seek first the Kingdom of God" (as is found in the book of Matthew, chapter 6, verse 33). "Followers of Jesus are generally described in the Bible as disciples—committed people who confidently spend their life apprenticed to learning the ways of Jesus Christ—and pilgrims—people who regard their current life on earth as temporary and one that represents a deliberate journey toward receiving eternal life," explained Victor Kubik, President of the United Church of God, an International Association.
"As described in the Bible, the coming Kingdom of God will be a marvelous time of unmatched, exceptional happiness and gladness," said Mr. Kubik. "What will this extraordinary time be like in the future? As poetically recorded in the King James Version, Paul wrote to disciples in the first century that 'Eye hath not seen, nor ear heard, neither have entered into the heart of man the things which God hath prepared for them that love Him" (see 1 Corinthians 2:9, KJV).
The Bible directly reminds members and families "you shall rejoice in your Festival…because the LORD your God will bless you in all your produce and in all the work of your hands, so that you shall surely rejoice" (see the Old Testament book of Deuteronomy, chapter 16, verses 13-15).
Explaining further about the biblical direction for the upcoming Festival, the Church president also pointed out that the Old Testament book of Zechariah emphatically predicts a future global restoration, as well as a time when the Festival of Tabernacles will be celebrated globally by all people. "Some may be surprised to learn that the Bible specifically foretells that after the coming return of Jesus Christ as King of Kings to this planet (see Revelation 19:16), people from all walks of life 'will go up year after year to worship the King, the Lord Almighty, and to celebrate the Festival of Tabernacles,'" (see Zechariah chapter 14, verse 16, New International Version).
"The annual observance of the Festival of Tabernacles is rich with spiritual parallels from ancient times to today and beyond," he continued. Where safely permitted, members journey to festival sites to reside in hotel rooms or open-air camps, which reflects the fulfillment of the command to live for eight days in temporary dwellings (see Leviticus 23:42).
"Many scholars confirm that the early Christian Church, whose members originally were mostly of a Jewish background, continued to observe the ancient Holy Days in a new spirit and with a new Christ-centered understanding of their meaning," said Mr. Kubik. "Today we have the marvelous understanding of how these ancient Holy Days reflect personal and global transformation – and how they represent the important message brought by Jesus Christ which outlines God's incredible plan for all humanity—including a future time where humanity is freed from concerns and troubles like nuclear war and global conflict."
"We understand from many biblical references that the fall Holy Day seasons—basically outlined in the 23rd chapter of the book of Leviticus—actually graphically represent forthcoming global events that will completely transform the world as we know it today," Mr. Kubik added.
Church members will assemble at more than 30 sites in the United States, Canada, Asia, Africa, the Caribbean, Europe and Latin America to take part in a contemporary Christian application of the biblical ancient Hebrew Holy Days.
"Prior to the pandemic the Church organized more than twice as many festival sites across the globe, but we have reduced the number of sites this year in accordance with public health precautions and safeguards against COVID-19 issues, including positively meeting and cooperating with local government standards and regulations," Mr. Kubik said. "Given varying degrees of restrictions on public assemblies in some states and countries, a number of members will observe the Festival locally this year or even in their own homes."
Accessible both in person (where safely permitted and possible) and by videoconference, daily worship services (typically in the morning) present powerful sermons and Bible studies that magnify and explain these spiritual principles. The eight-day period also features many family activities and opportunities for fellowship, Mr. Kubik noted.
In the United States, as local conditions permit from a public safety perspective, members will gather at 13 sites: Anchorage, Alaska; Bend-Redmond, Oregon; Branson, Missouri; Cincinnati, Ohio; Daytona Beach, Florida; Glacier Country, Montana; Lake Junaluska, North Carolina; Lancaster, Pennsylvania; New Braunfels, Texas; Panama City Beach, Florida; Pewaukee, Wisconsin; St. George, Utah; and Steamboat Springs, Colorado. The Church will also conduct the Festival at two Canadian sites (Drumheller, Alberta and Midland, Ontario); as well as sites in the Caribbean, Latin America Europe and the British Isles, Africa, Australia, India, New Zealand, and Sri Lanka. A full list can be found online.
Mr. Kubik will address all Church members through a special live webcast originating from the Panama City Beach festival site on Saturday, September 25 (beginning at 2 p.m. EDT).
How do New Testament disciples observe these days? Church members typically save about a 10th of their income for use at the Festival (also called the Festival of Booths in various English translations). These personal funds allow members to fully celebrate the eight-day biblical event, as the Bible specifically directs members to "rejoice before the Lord your God" during this season (see Leviticus 23:40 for details). This helps spiritually foreshadow the coming abundance inherent in the future Kingdom of God.
Church members attend the Festival with their families, and the Church provides many opportunities for family time together. The worldwide nature of the festival also gives rise to global fellowship and travel, and many friendships are made or renewed each season.
Visitors who would like to observe these days are welcome to log into daily online services. "As spiritual pilgrims, we are striving to become better disciples of Jesus Christ, and we welcome the opportunity to share our understanding and experiences with others," Kubik noted. A daily webcast of worship services will be available online at this link. The Church will also webcast live services at this link from the Bend-Redmond Festival site on the West Coast of the United States.
# # #
About the United Church of God, an International Association: More information about the United Church of God is available at http://www.ucg.org . The Church publishes a Bible study guide titled "God's Holy Day Plan – The Promise of Hope for All Mankind," which describes the biblical foundation for the ancient Hebrew Holy Days in detail. The Church publishes the Beyond Today magazine and sponsors the weekly television program of the same name: Beyond Today. A weekly summary of inspirational articles and news can be found at Find the Way.