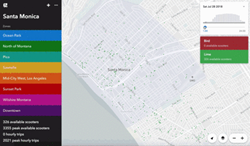 Movement data from scooters and bikes is critical to understanding the impact of new mobility options on city infrastructure, such as transit and streets.
LOS ANGELES (PRWEB) November 09, 2018
Shared scooter and bike companies Lime and Spin joined Remix today to celebrate their agreement to share standardized data with Remix. The data will be used to help cities manage shared bike and scooter vehicles and understand demand, trip patterns, and utilization. The operators explained their commitment to data sharing at a lightning panel breakfast event during the National League of Cities Summit in LA.
This data sharing agreement is being used first in Los Angeles, with the City of Los Angeles' Mobility Data Specification (MDS), a data standard and set of vocabulary to help cities enforce, evaluate, and manage mobility providers who operate in the public right of way.
"At LADOT, our job is to move people and goods as quickly and safely as possible, but we can only do that if we have a complete picture of what's on our streets and where," said Seleta Reynolds, General Manager of LADOT. "That's what this partnership is all about."
Remix is the first platform for cities to manage and visualize new shared mobility. Their technology is used in more than 300 cities across three continents.
"Movement data is critical to understanding the impact of new mobility options on city infrastructure, such as transit and streets," said Tiffany Chu, Remix Co-founder. "It provides insights into the equitable distribution of new modes amongst all communities, how they complement existing public transportation, and how cities can reach their goals to lower emissions by shifting away from single-occupancy vehicles, among other things."
Lime and Spin praised the agreement, pointing to their shared goals with cities around the world to radically reshape transportation away from fossil fuels and congestion.
"Data transparency is a core component of Lime's approach to building trusted city partnerships," said Emily Warren, Senior Director of Policy and Public Affairs at Lime. "We're proud to work with Remix and the City of Los Angeles to unlock insights allowing the City to maximize the public benefits of micromobility and prioritize infrastructure improvements that will make streets safer for Lime riders and all road users."
"Now that the demand for electric scooters has been proven, it's time for cities and companies to look at patterns in the data that can inform infrastructure improvements," said Kyle Rowe, Head of Government Partnerships at Spin. "This is an incredible moment to create new and safer norms for our streets, just by analyzing existing usage of a sustainable transportation mode. Spin is excited to partner with Remix and LADOT to share our data, and to help design streets that put people -- not cars -- at the forefront."
Please reach out to the media contact to be connected to any party mentioned in this release.
About Remix
Remix is the platform for designing your city's transportation future. Trusted by 4,000 planners in 300+ cities on three continents, Remix helps cities understand how streets, public transit, and new mobility work together. Remix empowers planners to explore new concepts, make informed decisions with data, and rally people around their vision — so that ultimately cities are safe, accessible, and equitable for everyone.
About MDS
Similar to a common language, the Mobility Data Specification (MDS) is a data standard and set of vocabulary to help cities enforce, evaluate, and actively manage mobility providers who operate within the public right-of-way. Today, that could be dockless scooters, bikes, taxis, and buses. Tomorrow, that could be autonomous cars, drones, and whatever else the future may hold. Learn more at developer.ladot.io.
About Lime
Lime is catalyzing a shift in urban mobility by empowering riders with affordable, sustainable shared transportation options that reach every neighborhood. By partnering with local communities to deploy fleets of free-floating bikes, e-bikes and electric scooters, Lime makes active transportation more convenient and equitable for residents and visitors, while helping cities fight car congestion. Lime operates in over 100 communities around the globe, offering industry-leading data transparency and Lime Access discounts for disadvantaged communities. Learn more at http://www.li.me.
About Spin
Spin operates electric scooters in cities and campuses nationwide, bringing sustainable last-mile mobility solutions to diverse communities and neighborhoods. Recognized for its consistent cooperation and collaboration with cities, Spin partners closely with transportation planners, mobility officers, community groups, and university administrators to bring dockless mobility options to streets in a responsible and carefully orchestrated manner.
Based in San Francisco, Spin is a diverse team of engineers, designers, urban planners, policymakers, lawyers, marketers and operators with experience from Y Combinator, Lyft, Uber, local and federal government, and the transportation advocacy world. Spin was known for launching the first stationless mobility program in Seattle, and has since expanded to become the exclusive electric scooter partner in mid-sized cities like Coral Gables, Florida and Lexington, Kentucky, as well as one of a few permitted scooter operators in large cities like Denver, Detroit, and Washington, DC. In close partnership with local governments, the team embeds in cities and neighborhoods to understand their specific transportation needs -- all while hiring locally from the community.