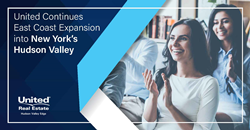 DALLAS (PRWEB) November 03, 2022
United® Real Estate announced today that a partnership between United Real Estate | North Jersey and a New York residential brokerage is expanding United's service footprint into the Hudson Valley region.
The alliance makes more inroads into the East Coast for United where it has improved its foothold with the additions of D.C.-based Pearson Smith Realty in July and Long Island-based United Real Estate | Fortune in August.
The alliance capitalizes on post-COVID outmigration from New York City and surrounding metro areas into communities in the Hudson Valley. The bourgeoning population and number of agents working in the region present attractive growth opportunities.
Formerly JP Realty Advantage, the Hudson Valley office was born from the partnership forged between Principal Broker, Justin Phillips and United Real Estate | North Jersey Owners, Jeff and Todd Bailey and Anthony Laurita. Phillips will lead the operation moving forward as United Real Estate | Hudson Valley Edge.
"During the pandemic, I made the decision to reestablish my independent brokerage. I soon realized I needed a strong national partner with deeper resources to get me to where I wanted to be from a growth perspective. When I met the United North Jersey owners and learned about United's offerings and flat-fee agent compensation model, I recognized they had a strong value proposition difficult to compete against," stated Phillips. "I will have high recruiting and retention rates with United's attractive agent compensation model, technology, marketing, training and resources — provided at no additional cost to agents or clients."
"We were looking for the right opportunity to grow our operation into New York, and we found the perfect partner in Justin. His real estate experience, expertise and his enthusiasm for recruiting will benefit us all. By pushing northward from New Jersey into the Hudson Valley, we will collectively expand our service footprint and become a regionally dominant brokerage," stated United | North Jersey COO and Owner, Jeff Bailey.
United Real Estate | Hudson Valley Edge services Dutchess, Ulster, Orange, Westchester, Putnam and Rockland counties and as far east as the Connecticut state line.
"This team is on a path to greatness in the Hudson Valley region," said United Real Estate President, Rick Haase. "One of our organization's objectives is to further the growth of our Brokers and their offices with business development support and watching this group's regional influence expand to serve more clients is very rewarding."
Agents interested in career opportunities with United Real Estate | Hudson Valley Edge can visit JoinUnitedHudsonValleyEdge.com or call 914-456-3574. Agents interested in career opportunities with United Real Estate | North Jersey can visit UnitedRealEstateNorthJersey.com or call 888-501-6953.
Brokers interested in joining the United Real Estate broker network can visit GrowWithUnited.com or contact Tyler Anderson, VP Broker Network Development at 724-858-9242 or TAnderson@UnitedRealEstate.com.
About United Real Estate | Hudson Valley Edge
United Real Estate | Hudson Valley Edge was founded in 2022 by Principal Broker, Justin Phillips, formerly Broker/Owner of JP Realty Advantage LLC. Located in Dutchess County in Lagrangeville, New York, United | Hudson Valley Edge is a full-service residential and commercial brokerage committed to integrity, service and quality with the ability to service all real estate needs of its clients. In partnership with United Real Estate | North Jersey, the brokerages' combined service footprints include Northern and Central New Jersey and the Hudson River Valley with over 400 agents.
About United Real Estate
United Real Estate (United) – a division of United Real Estate Group – was founded with the purpose of offering solutions to real estate brokers and agents in the rapidly changing real estate brokerage industry. United provides the latest training, marketing and technology tools to agents and brokers under a flat-fee, transaction-based agent commission model. By leveraging the company's proprietary cloud-based Bullseye™ Agent & Broker Productivity Platform, United delivers a more profitable outcome for agents and brokers. United Real Estate operates in 32 states with more than 140 offices and 17,500 agents. The company produced over $21.5 billion in sales volume in 2021.