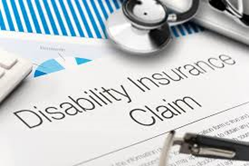 The odds of becoming disabled are higher than most consumers realize. Of workers entering the work force today, 30% will become disabled before they retire.
BEDFORD PARK, Ill. (PRWEB) April 29, 2019
"Insurance is a way to manage risk. Individuals can anticipate and plan for major life events, such as purchasing a home, marriage, starting a family, and retirement. However, it is difficult to prepare for the impact that results from a serious illness or injury, " began Bob Dial, Vice President/Chief Compliance Officer, United Security Health and Casualty Insurance Company (USH&C).
"With little or no warning serious illnesses and injuries befall millions of Americans each year. Most working adults have some form of health insurance to absorb costs associated with catastrophic medical injury or illness. However, far more lack disability insurance coverage, which compensates the policyholder for income lost when they're unable to perform some or all of their job duties due to a qualifying medical event or condition," Dial concluded.
Without some kind of income protection, more Americans are experiencing severe financial difficulty if they need to miss work due to illness, injury, or pregnancy. The odds of becoming disabled are higher than most consumers realize. Of workers entering the work force today 30% will become disabled before they retire. (1)
Dial provides tips to assist consumer purchase disability insurance:
Tip 1: Ask yourself the following questions:
a. Are your emergency savings sufficient to cover short-term expenses? As a rule of thumb, emergency saving reserves should be at least three times your income. Individuals that do not have an emergency fund, short term disability should be considered a necessity since they would face immediate financial crisis if they were unable to perform work for an extended period of time.
b. Do you have recurring expenses or debts? Individuals that have recurring expenses or debts that cannot easily be deferred or refinanced, disability insurance may serve as a key financial safety net. Examples of such debts and monthly expenses might include car payments, mortgage and student debt. In the example of a mortgage, disability insurance may be the only way to avoid foreclosure.
c. Are you the sole or primary breadwinner in your household? For households with one primary breadwinner, disability benefits will help cover the cost of basic necessities, such as grocery, clothing and day-to-day living. For single income families, disability insurance is vital and possibly the only way a standard quality of living would be obtainable.
Tip 2: Determine which form of disability insurance would fit their needs.
Dial explained, "There are two types of disability insurance consumers need to be aware of – short term disability (STD) and long term disability (LTD). Because many employers offer STD and LTD to their employees, consumers should first inquire with their employer's Human Resource department if either is included with their employee benefit package. If not, most insurance companies offer STD and LTD as an optional benefit."

Short Term Disability Insurance (STD). Short-term policies pay benefits for short periods of time—typically three months, six months, or one year, after a brief waiting (elimination) period. Many employers offer a short term group plan as a company-paid benefit to all employees.
Long Term Disability Insurance (LTD). Long term disability insurance has an elimination period of at least 90 days. After that, benefits are paid for a longer term, typically, two years, five years, 10 years, to age 65, or for life, depending on the policy. The longer the benefit period, the higher the premium.
Tip 3: Review with your agent important policy terms such as benefit amount, elimination period, benefit period and if the policy includes any special benefits. Disability insurance policyholders can receive up to 66 2/3% of their income while disabled. What policyholders receive is based on current income and the Monthly Benefit, Elimination Period and Benefit Period they select. "At no extra charge, USH&C's Disability Insurance policy includes a $2,500 Accident Death Benefit, Hospital Confinement Benefit, and Organ Transplant Benefit. These benefits provide an added layer of protection against the financial burden that often results with a serious accidental injury or sickness," Dial remarked.
"Auto insurance protects you and your vehicle if you are involved in an accident. Health insurance guards against the financial hardship of medical costs. Life insurance is a way of helping your family cope financially when you die. Disability insurance helps you maintain a portion of your income and continue paying bills if you become disabled. Each form of insurance plays a vital role," concluded Dial.
About United Security Health and Casualty Insurance Company (USH&C):
USH&C is a regional insurer that has been in business since 1973, licensed to sell products in Arizona, Arkansas, Illinois, Indiana, Missouri, and Nebraska. USH&C specializes in providing individuals and families a variety of products and plan choices to meet their individual needs. USH&C's primary focus has been, and continues to be, providing quality products and excellent service to our policyholders. USH&C's product portfolio includes: Short Term Medical, Personal Accident and Medical Insurance, Dental Plus Vision and Hearing, Cancer, Critical Illness, Accident Hospital Indemnity, Disability Income, Fixed Indemnity, and Personal Auto products. USH&C is headquartered in Bedford Park at 6640 S. Cicero Ave, Bedford Park, IL, 800-875-4422 or 708-475-6100, http://www.USHandC.com.
Source:
1. Social Security Administration, Fact Sheet January 31, 2007
https://www.ssa.gov/policy/docs/chartbooks/fast_facts/2007/fast_facts07.html