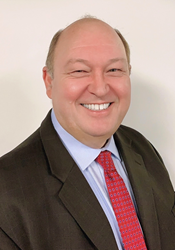 "Having Deo in this leadership position will propel this region forward," stated George Guilfoy, COO at United Security, Inc.
CAMBRIDGE, Mass. (PRWEB) April 16, 2020
United Security, Inc., a 28-year-old Security Services provider with operations in twenty states, is excited and proud to announce the hiring of Deodato Arruda as Regional Vice President of Operations. Deodato comes to United Security, Inc. with over 30 years in the security services industry with leading companies.
Deo's career in security began as a student at Boston College, where he would work night shifts as a security officer to pursue his education and degree. Relationships developed in that part time role would launch Deo into the security services industry. Over his career Deo has worked throughout the east coast corridor, from Boston to Washington, DC. His responsibilities grew to oversee $100 million in annual revenue, hundreds of account relationships, and thousands of employees under his direction. His operational experience in contract security is considered second to none.
"Deo is a distinguished hire for United Security at the right time. As we continue to achieve annual double-digit growth, the need for operational excellence is paramount. His ability to mentor, and educate our internal operations teams, combined with his well-known relationships with clients are the essential skills needed in our industry. Since his arrival, Deo has held a key role on our internal task force business continuity team. That team is responsible for the communication and messaging to clients and employees on the Covid-19 Pandemic. His insight, experience and counsel are always thought provoking and keep USI focused on our employee and client services. Having Deo in this leadership position will propel this region forward," stated George Guilfoy Chief Operating Officer at United Security, Inc.
As Regional VP of Operations Deo will be tasked with the operational oversight of the following states: NH, MA, ME, CT, RI, NY and NJ. Under his direction Deo will be accountable for 50% of United Security's annual revenue. His experience will allow him to elevate the already strong service levels to unprecedented heights within security circles. His industry knowledge will be an asset to Executive Leadership, Human Resources as well as the Sales and Marketing team as United Security continues to grow.
Please join United Security, Inc. in congratulating Deodato on his new role. He can be reached at darruda@usisecurity.com.