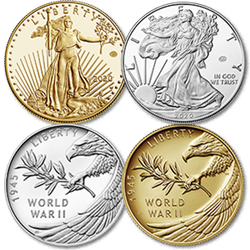 WASHINGTON (PRWEB) October 29, 2020
Beginning in November, the United States Mint (Mint) is releasing four products to commemorate the 75th Anniversary of the End of World War II.
November 5

November 9
A decorative sleeve and Certificate of Authenticity with WWII-related information accompanies each of the coins and the silver medal.
Sales for all products begin at noon EST on the respective dates. Orders for each option will be limited to one per household for the first 24 hours of sales. The Mint will remove the limit following the initial 24-hour sales period. Please use our website for all order placements at this time.
To sign up for Remind Me alerts, visit:

To reduce the risk of employee exposure to COVID-19 in the workplace, the Mint's sales centers are closed until further notice. Additionally, due to operational adjustments in response to COVID-19, our customer service representatives are available to assist with any questions you may have, but are unable to accept credit card information or place your order over the phone. Please use our website for all order placements at this time.
About the United States Mint
Congress created the United States Mint in 1792, and the Mint became part of the Department of the Treasury in 1873. As the Nation's sole manufacturer of legal tender coinage, the Mint is responsible for producing circulating coinage for the Nation to conduct its trade and commerce. The Mint also produces numismatic products, including proof, uncirculated, and commemorative coins; Congressional Gold Medals; silver and bronze medals; and silver and gold bullion coins. Its numismatic programs are self-sustaining and operate at no cost to taxpayers.
Note: To ensure that all members of the public have fair and equal access to United States Mint products, the United States Mint will not accept and will not honor orders placed prior to the official on-sale dates and time of November 5 and November 9, 2020, at noon EST.
ADDITIONAL RESOURCES:

# # #
United States Mint – Connecting America through Coins