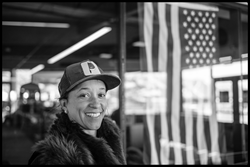 Entrepreneur Kim Spacek says, "One of the main reasons I founded the United States of Camo was to give back to those who keep me and my family safe. Through research, I realized support for Veterans' mental health initiatives was lacking and decided to work with various veterans charities that supp
NEW YORK (PRWEB) November 09, 2020
In advance of Veteran's Day, Entrepreneur Kimberly Smith Spacek is excited to announce the launch of her new brand the United States of Camo. The company was founded with the intention to support Veterans with a donation of 10% from all merchandise sales to mental health organizations in the United States.
Coming from a military family, Kimberly is passionate about supporting individuals who selflessly fight for their country. Her father is a 30-year Air Force Colonel who served in the Vietnam War and her uncle, a Tuskegee Airman, was the pilot that shot down the last manned German aircraft in WWII.
While many servicemen and women are supported when they come home from war, unfortunately, that is not always the case. Many military members lack family, education, resources, and a stable structure that would lead them to be successful. Entrepreneur Kim Spacek says, "One of the main reasons I founded the United States of Camo was to give back to those who keep me and my family safe. Through research, I realized support for Veterans' mental health initiatives was lacking and decided to work with various veterans charities that support our soldiers and their families."
United States of Camo - 50 States and Beyond
With a nod to the traditional military camo, she developed her unique camo print that features all 50 states in a wide variety of colors. As a military brat, she has always loved camo, particularly non-traditional camos, and when she decided that she wanted to start a business she knew she had to incorporate the print. "When I got the idea to create streetwear with a purpose, I knew it had to be in camo. My camo references traditional military camo but with a twist, my print represents the 50 states. People love to find their home state!"
Utilizing the platform of the retail industry to present new streetwear with a purpose Kim says, "It's one of the few industries where a designer like me can develop a unique concept that blends my love of golf and my intention to support Veteran's mental health causes in one beautiful collection." Retail prices range from $40 for a trucker hat to $110 for a polo shirt.
About the United States of Camo:
The mission at the United States of Camo is to bring awareness to the mental health issues that plague our country's Veterans and to raise money to help them get the support they need. Everyone that wears the brand is proud to support the cause and help veterans get the help they deserve.