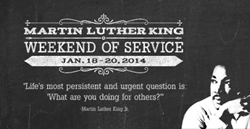 "We are proud to once again partner with Hands On Greater Portland and The United Way, and to honor Martin Luther King, Jr's legacy of impact and helping others through MLK Weekend of Service,"
(PRWEB) January 21, 2014
A great man once said, "life's most persistent and urgent question is: 'what are you doing for others'"? Over 57 years later, we are still being challenged by Martin Luther King, Jr's words to rise to the occasion and to serve others.
This MLK Day 2014, Hands On Greater Portland and United Way of the Columbia-Willamette answered that most persistent question by rallying their communities around giving back, and using social media as a vehicle to organize volunteers and enact change.
For the seventh year in a row, and HOGP and UW Columbia-Willamette teamed up for United Way MLK Weekend of Service: a weekend dedicated to connecting people with volunteer opportunities and celebrating impact across the Pacific Northwest. This year, from January 18-20, 2014, thousands of participants took action across Multnomah, Washington, Clackamas, and Clark Counties and make a difference through volunteer service.
Like many grassroots movements, United Way MLK Weekend of Service tapped into the power of peer-to-peer organizing, and leveraged social media to mobilize communities around the causes they care about.
To make it even easier for people to connect with service opportunities in their area, Hands On Greater Portland and United Way of the Columbia-Willamette used CafeGive Social's "Social Impact Map" app for Facebook. By visiting either organization's Facebook page, volunteers, fans, and followers could quickly and easily find events taking place near them. Each MLK Weekend service event is listed on an interactive map, and each "pin" on the map listed the name of the community volunteer project, a brief description of the project, the number of volunteers needed, and a link to register to volunteer.
Once registered, volunteers used the Social Impact Map App to invite their friends and followers to join them a day of service, and quickly double their impact. Throughout the weekend, volunteers used the hashtag #mlkwknd2014 to showcase their involvement, share photos of their good works, and encourage others to do the same.
"We are proud to once again partner with Hands On Greater Portland and The United Way, and to honor Martin Luther King, Jr's legacy of impact and helping others through MLK Weekend of Service," said Sandra Morris, CEO and Co-Founder of CafeGive Social- a social media and mobile app development company for cause marketing.
Nearly 70 events were added to the MLK Weekend map, and over 1360 volunteers took part. Each of the projects was a "done-in-a-day" volunteer opportunity, lead by a Hands On Volunteer Leader.
The projects ranged from serving up a Sunday dinner for people who are homeless to Oregon's largest Habitat For Humanity build over the weekend. One project --the Bink-A-Thon hosted by The Blanket Brigade-- brought together 40 volunteers to sew as many blankets as possible for children and families in need. In true Pacific Northwest style, other projects focused on sustainability and environmental impact, including establishing community gardens and sorting reusable building materials for The ReBuilding Center: a center for "recycling" valuable materials and eco-friendly construction support.
Hundreds of people have shared and posted using #mlkwknd2014, with Tweets like "Honoring Dr. King and getting things clean at Friendly House this am!" and "87 volunteers strong at Ridgefield Wildlife Preserve!" In addition to showcasing the events over MLK weekend, the Social Impact Map also featured an integrated live Twitter feed.
All over Oregon and Washington, the tweets poured into the app's live feed as volunteers, businesses, and nonprofits celebrate giving back, and the legacy of Dr. Martin Luther King, Jr. By the end of MLK Day 2014, such volunteers donated nearly 3,000 hours to causes in their community, and kept the philanthropic momentum going by spreading even greater awareness for the nonprofits and people in need in their area.
Did you take part in MLK Weekend of Service? Use #mlkwknd2014 to share your story and photos of you volunteering.
About Hands On Greater Portland
Hands On Greater Portland connects individuals, families and businesses with exciting, meaningful service opportunities throughout the Portland metro area. Recognized as the region's volunteer hub, Hands On partners with 400 nonprofits, schools and community organizations to link volunteers with a variety of opportunities that fit their interests and schedules and fill critical community needs. Volunteers feed those in need, tutor children, and restore the environment. Hands On makes powerful changes in the greater Portland area and in the 24,000 volunteers a year it mobilizes. Founded in 1996, Hands On Greater Portland is a member of Hands On Network, the nation's leading volunteer action organization. For more information, visit: http://www.handsonportland.org
About United Way of the Columbia-Willamette
United Way of the Columbia-Willamette is working to advance the common good in the four-county Portland/Vancouver area by focusing on the basics we all need for success: education, income, and health. We all win when children succeed in school, families are financially stable and independent, and people have good health. Our goal is to create long-lasting changes that prevent problems from happening in the first place. By working together we can create opportunities for a better life and create a stronger community. That's what it means to LIVE UNITED. For more information, visit http://www.unitedway-pdx.org
About CafeGive Social
CafeGive Social is the only company that combines social media marketing with meaningful, action-oriented cause marketing applications and solutions. Our products and services have helped companies, agencies and nonprofits of all sizes connect with customers to build brand, enhance reputation, raise awareness and effect social change. Headquartered in Portland, Oregon, CafeGive Social is a privately held company. For more information, visit http://www.cafegive.com.