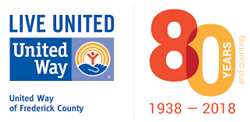 FREDERICK, Md. (PRWEB) January 25, 2021
On Tuesday January 25 at 10:30 a.m., United Way of Frederick County and BGE Home will be installing A Gift of Warmth – a brand new high efficiency heating system for a local family in need, at no cost.
Back in December of 2020, individuals in the community were able to nominate a family/individual in need of a new heating system. This year, many deserving families were nominated, making it hard to choose one deserving family. However, one local family stood out the most.
Nomination for the 2020 recipient:
"I am nominating my mother. She has always been there for all of us kids growing up and now she is raising my niece. My mother and my niece live in a townhome where the system is so old that she is afraid to run it because she smells smoke when doing so. In the winter, all they use are space heaters and they don't run them if they are not in the room with it, which means things get pretty cold in other areas of the home. They have been living this way for a very long time and I had no idea. My mother is not wealthy at all and is retired and lives on a limited budget. My mother needs a lot of work done to her home, so having a new HVAC would really help her out. I hate that my mother, who has given so much of her life to taking care of everyone else, is having to live in these conditions and constantly struggles. This gift would be AMAZING and extremely appreciated! She has no idea I am nominating her, but would be so honored and humble if she is selected. Thank you so much for this incredible opportunity."
The ALICE Report for Maryland revealed that before COVID-19, more than 39 percent of Frederick County households struggled to afford basic household necessities. With the new challenges brought on by the pandemic, United Way of Frederick County and BGE HOME are excited to work together to help a household in need reduce costs and stay safe and warm in their home for many winters to come. For more information about the "A Gift of Warmth" program, visit http://www.unitedwayfrederick.org/agiftofwarmth.
For more information about A Gift of Warmth or details on where he installation is taking place, please contact Shana Knight at sknight@uwfrederick.org.
About United Way of Frederick County
Since 1938, United Way of Frederick County has been fighting for health, education and financial stability for every person in the Frederick County community. United Way produces the ALICE (Asset-Limited, Income-Constrained, Employed) Report which shows that approximately nearly 40% of households can no longer afford to live in Frederick County. Our investments and programs are aligned to support and increase the financial stability of these households.
United Way of Frederick County partners include global, national and local businesses, nonprofits, government, civic and faith-based organizations, along with educators, health providers, senior citizens, students, and others. The organization provides grants to local nonprofits, offers programs such as free tax preparation and matched savings, mobilizes volunteers, and engages in public policy advocacy. To learn more about United Way and how you can get involved, please visit UnitedWayFrederick.org.