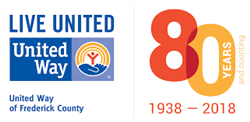 "We are pleased to announce this second wave of grants providing critical support to nonprofit institutions serving those in need," said Ken Oldham, CEO of United Way of Frederick County. "We're looking forward to announcing future grants as emergent needs continue to unfold in our community."
FREDERICK, Md. (PRWEB) April 16, 2020
United Way of Frederick County (UWFC) has committed an additional $100,000 to support 15 local nonprofits who provide essential services during COVID-19 crisis. These grants come just two weeks after the first $25,500 of the first wave of COVID-19 Emergency Relief Campaign grants were distributed by UWFC.
"We are pleased to announce this second wave of grants providing critical support to nonprofit institutions serving those in need," said Ken Oldham, CEO of United Way of Frederick County. "We're looking forward to announcing future grants as emergent needs continue to unfold in our community."
United Way of Frederick County has granted $100,000 to the following:

The Buddy Project — $1,000 — Helping provide students and nonprofits refurbished computers.
Centro Hispano de Frederick — $5,000 — Support for the influx of crisis-related needs.
City Youth Matrix — $4,000 — Supplying families with at-home activity supplies and monthly food insecurity assistance.
Frederick Rescue Mission — $5,000 — Provide substance abuse recovery, food and shelter services.
Faith House — $10,000 — Sheltering women and children who are experiencing homelessness in the Frederick area, during the COVID-19 pandemic.
Housing Authority of the City of Frederick — $3,000 — Supporting women in public housing as they strive to maintain stable households and provide adequate basic resources to their families during the COVID-19 crisis.
I Believe in Me — $5,000 — Continuing mentor services and providing food to underprivileged youth and community members.
Interfaith Housing Alliance — $5,000 — Providing direct, immediate support to property residents currently in crisis, in addition to responding to residents' critical needs as they continue to arise in the coming weeks.
Maryland Ensemble Theatre — $3,000 — Supporting operating costs to produce fabric face masks for health personnel.
Second Chances Garage — $8,000 — Provide essential transportation services to the community.
Seton Center, Inc. — $9,500 — Assisting individuals with emergency financial support.
St Vincent de Paul Society-St John Conference — $5,000 — Providing emergency financial support, prescription medications and gas, assistance in obtaining personal IDs/birth certificates, and more.
The Claggett Center — $17,500 — Providing shelter to those serving COVID-19 victims in Frederick County.
The Religious Coalition — $10,000 — Providing alternative Emergency Shelter for Homeless Individuals and Families.
The Salvation Army — $9,000 — Providing COVID-19 Emergency Financial Assistance.
United Way thanks those who committed matching contributions to encourage support: Ausherman Family Foundation, Laughlin Family Foundation, The Mark and Susan Butt Saturday Mornings Fund, Robert G. Hooper Family Fund, Halleman Family Fund, Michael & Betsy Day, The Jean Ellis and Florence Guss Memorial Fund and The Ken and Lynn Burdette Donor-Advised Fund.
As of 4/13/2020, the COVID-19 Emergency Relief Campaign has raised over $238,000 from 530 contributors. The campaign remains open and gifts can be made at http://www.uwfrederick.org/covidrelief, by mailing checks to PO Box 307, Frederick, MD 21705 or texting COVIDFREDERICK to 71777.
About United Way of Frederick County
For over 80 years, United Way of Frederick County has been fighting to achieve lasting change by identifying the ALICE (Asset-Limited, Income-Constrained, Employed) and impoverished families in Frederick County and working to strengthen their education, financial stability, and health to build a strong, viable community. Our work focuses on helping children and youth be successful in school and achieve their potential through education; helping people obtain the tools they need to become financially stable and independent; and ensuring our neighbors in need have access to healthy, nutritious food and healthcare.
United Way partners include global, national and local businesses, nonprofits, government, civic and faith-based organizations, along with educators, health providers, senior citizens, students, and others. The organization provides grants to local nonprofits, offers programs such as free tax preparation and matched savings, mobilizes volunteers, and engages in public policy advocacy. To learn more about United Way and how you can get involved, please visit UnitedWayFrederick.org.