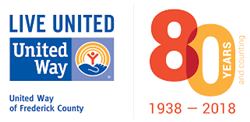 FREDERICK, Md. (PRWEB) January 27, 2021
United Way of Frederick County's annual free income tax preparation program, VITA, will continue to offer free tax preparation by certified IRS tax preparers for those making $57,000 or less. Although VITA officially begins on February 1, 2021 we have now started taking appointments. Eligible individuals can call 211 or 1-866-411-6803 to book their appointment today. Appointments are required.
"With new and returning certified VITA tax preparers, available appointments two days a week and a convenient downtown location, we look forward to serving our Frederick County residents in a safe and responsible manner," says Malcolm Furgol, Director of Community Impact & Grants.
This year, VITA will again be taking place at the Bernard W. Brown Community Center, located at 629 North Market Street, Frederick MD, 21701. Hours of operation will be Tuesday from 12:00pm – 6:00 pm, Thursday from 9:00am – 3:00pm and Friday from 10:00am – 2:00pm for clients to complete final return signatures and pick up completed returns. In recognition of the COVID-19 pandemic VITA will be operated as a 100% drop-off program. Options for doing online tax returns at home for free are available on our website.
New this year is a partnership with Asian American Center of Frederick where community health workers will be promoting VITA as a means for families to claim the earned income tax credit and children's tax credit with the goal of reducing the number of Adverse Childhood Experiences (ACEs) in our community.
VITA is a partnership between United Way of Frederick County, the Housing Authority of the City of Frederick and Asian American Center of Frederick and is supported by the Delaplaine Family Foundation, Cash Campaign for Maryland, the Ausherman Family Foundation, Frederick County Government and donors throughout Frederick County.
United Way of Frederick County is dedicated to the financial stability of the Frederick community, and with the VITA program, low-income households will be able to take advantage of free tax preparation to get back their maximum refund and save more of their hard-earned money. VITA is just one of many financial stability programs provided by the Prosperity Center.
For more information regarding this year's VITA program, visit unitedwayfrederick.org/freetaxprep.
For questions regarding the program, contact Mary Ricker atmricker@uwfrederick.org or 301-573-8898.
About The Prosperity Center
Using the collective impact model, the Prosperity Center uses a holistic, integrated approach to improving the financial security of Frederick County residents. We function as a one-stop hub to allow community members access to a wide range of services, including income supports, employment and education services, financial education, asset building services, and more.
The Prosperity Center opened its doors in April, 2014. Located in the Bernard W. Brown Community Center on North Market Street in Frederick, it is a partnership among the United Way of Frederick County, the Housing Authority of the City of Frederick, and the Frederick Coalition for Financial Success (FCFS). Current services include the Volunteer Income Tax Assistance (VITA) program, Prosperity Savings Accounts, free financial education classes, and access to an array of community resources.
Connect with us on social media by visiting Facebook.com/ProsperityCenterFrederick.
About United Way of Frederick County
Since 1938, United Way of Frederick County has been fighting for health, education and financial stability for every person in the Frederick County community. United Way produces the ALICE (Asset-Limited, Income-Constrained, Employed) Report which shows that approximately nearly 40% of households can no longer afford to live in Frederick County. Our investments and programs are aligned to support and increase the financial stability of these households.
United Way of Frederick County partners include global, national and local businesses, nonprofits, government, civic and faith-based organizations, along with educators, health providers, senior citizens, students, and others. The organization provides grants to local nonprofits, offers programs such as free tax preparation and matched savings, mobilizes volunteers, and engages in public policy advocacy. To learn more about United Way and how you can get involved, please visit UnitedWayFrederick.org.