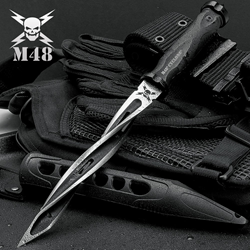 The M48 Cyclone is the triangular knife of the future! It's sharp, it's sleek, it's mean, and it is incredibly fun to use!
Moultrie, Georgia (PRWEB) May 21, 2017
For more than 20 years United Cutlery has been distinguished by unique and innovative product designs that cover a wide range of knives and swords, from functional to fantasy. United Cutlery has always been "Stronger. Sharper" than the competition and it continues to deliver the goods with sleek, modern designs that defy tradition.
Offering a range of weapons and tools built for battle, the M48 line by United Cutlery is the absolute in tactical perfection. Using the concept "Gear to get the job done. No matter how dirty." as a driving force, United Cutlery has put out a line of products that works in the real world.
"The M48 brand has always been designed as a line of heavy duty utility and tactical tools. This time around we decided to do something more edgy and fun, but still fully functional and built to the same tough standards as our other M48 products. We had been discussing the need for a dagger or stiletto in the line, but decided to go a completely different direction," said Kit Rae, master knife and sword designer.
The newly released M48 Cyclone Fixed Blade Knife is like no other knife on the market and has absolutely no competition.
"The M48 Cyclone is the triangular knife of the future! It's sharp, it's sleek, it's mean, and it is incredibly fun to use!" said Chuck Meré from the hit YouTube channel Zombie Go Boom.
Cast from 2Cr13 stainless steel, the blade is crafted into a spiraling masterpiece of design with the three twisting cutting edges coming down to an incredibly sharp piercing point.
"We always liked the three edged blades on Tibetan Phurba daggers and the twisted spike designs of some antique stiletto blades. The Cyclone basically combines those two ideas with a three-edged spiral spike, like a triple helix," said Rae.
As with all M48 knives, which are made of the highest grade materials, the glass-fiber-reinforced nylon handle gives you a strong and secure grip. The Cyclone also features a solid stainless steel hand guard and a skull crusher pommel. The uniquely designed, two-toned blade slides into a specially designed TPR and nylon belt sheath that fits the knife like a glove. No job is too tough for this powerful fixed blade!
"When you're trying to survive, no other brand has your back like M48," said Clint Kadel, president of United Cutlery.
Often imitated, but never exceeded, United Cutlery strives to make knives and swords to the highest standards in the industry, with superior value, quality, performance, great customer service, and prices that cannot be beat!
For more information or to purchase the new M48 Cyclone Fixed Blade Knife, visit http://www.budk.com/M48-Cyclone-Fixed-Blade-Knife-37176?sourcecode=CYCLONE17.