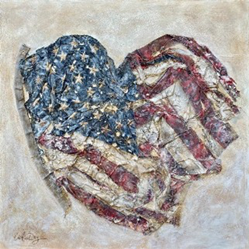 FREDERICK, Md. (PRWEB) May 18, 2021
Uniting US is pleased to partner and provide the Summer with the Arts programming with the Military Women's Memorial(MWM). The Memorial is located at the ceremonial entrance to Arlington National Cemetery and open during regular hours to the public. Park in the Arlington Cemetery garage, walk across the Arlington Memorial Bridge, or come via the Metro.
The Summer with the Arts exhibition runs from May 20 through September 7, 2021. Additional program dates and themes during the summer include:

June 26 - Healing
July 24 - Freedom
August 28 - Family
Uniting US works to INSPIRE, EMPOWER, and UNITE veteran communities through the healing powers of art. Uniting US is dedicated to supporting therapeutic arts engagement for the military community: Active duty, Guard, Reserve, Veterans and Family members with their communities nationwide.
This exhibition is curated by renowned artist and scholar, Annette Polan, Professor Emeritus from the Corcoran College of Art and Design at George Washington University. Polan curated the Faces of the Fallen exhibition at MWM and the Pentagon, which featured portraits of servicemen and women who died while serving in Afghanistan and Iraq. Polan is sought after for official portraiture, including MWM Founder, General Wilma Vaught. She is a participant in the U.S. Department of State's Art in Embassy Program.
Through Uniting US programs, veterans are healing from injuries sustained while in the military and finding ways to cope with transition and every day stress. By creating meaningful art, veterans are able to create a narrative to discuss experiences and emotions often left unsaid. They are sometimes able to open a pathway to discussions of the constant refrain: 22 suicides a day. Current challenges with the COVID-19 pandemic add even more physical and mental health issues. While there is no singular silver bullet, art-making and art therapy are proven remedies to provide healing and wellness benefits.
The range of artworks created by Uniting US Artists for the Summer with the Arts exhibition is breathtaking," says Uniting US Executive Director, AnnMarie Halterman. Edith A. "Edie" Disler, April Goodwin-Gill, Christin Dy, and Leigh Cortez are among more than a hundred artists who are represented in the show.
Edie Disler is a retired Air Force officer. During her time in service, she sustained brain injuries which led to bouts of depression and a variety of challenges. In 2017 she set out to become a metal artist through training in welding, fabrication, jewelry-making, coppersmithing, and blacksmithing. Conception of her sculptures helps her focus her mind and bringing that conception into reality provides her tremendous therapeutic value with its sense of completion. Military themes find their way – conspicuously and inconspicuously – into her metal sculpture. In Edie's work the glass spheres or "fishing floats" appear frequently, representing humanity and its vulnerability. Fishing floats are shaped, through fire, to perform the function of floating a fishnet; but, if broken, they would fall to the bottom of the ocean and eventually become, once again, the sand from which the glass was made: "ashes to ashes, dust to dust." In her sculptures, repeated metal shapes are hand-cut and shaped; therefore, even though they appear the same, no two are exactly alike. Such is the case in the military, where recruits and trainees abide by dress and grooming standards which create outward uniformity, though the internal individuality remains.
April Goodwin-Gill creates art from just about anything. From cardboard cylinders to bottle caps, anything can spark her recycling creativity, and fashion it into art. Her talents with a sewing machine are remarkable. She has won several awards for her art works. As part of the Uniting US Operation Mask Force national initiative, April worked diligently to help safeguard community members in the metro DC area. In addition to the stress of COVID-19, April has just honored the anniversary of the death of her sweet daughter. Even so, April's positive attitude and eternal gratitude and appreciation for life is infectious. She hopes that her masks will help save the lives of many other sweet babies and keep others heathy in order to bring their families a piece of her little joy.
Cristin Dy is an Air Force veteran. She created Love America during a very chaotic time in our country. The painting reminds us that during our nation's weakest moments, we can stay United through love, kindness and patience. The old glory style artwork represents the heartache that Americans have endured through COVID, the presidential election, past times of war, suffering and loss. The image portrays that love preserves America and our place in the world. "I do art because it is freeing, humbling, forgiving and subjective, says Cristin Dy, "Art has played a big role in my ongoing treatment of chronic pain and in overcoming my life's obstacles. I am extremely grateful for the opportunity to show my art to the public. I feel a great connection with other veteran artists and the community inviting us to share our work."
Leigh Cortez. Cortez is both an Army veteran and spouse of an active-duty combat soldier. Cortez's art work examines the unpredictability, tension and trauma of military life. "I work both with destroying images indicative of the military tattoo subculture and with material intrinsically associated with destruction, such as the intestines of animals traditionally used for sausage preparation," says Cortez, who is also a tattoo artist, "This material reacts with the mash of tattoo imagery painted on the canvas panels. Whereas the tattoo imagery questions a superficial narrative of military culture, the bovine intestine panels represent a more intimate reality of military life."