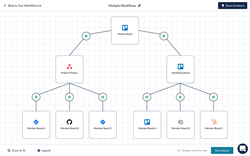 This new solution allows people to continue working in the right tool for the job while acting as the glue between different software and different teams.
MONTREAL (PRWEB) September 15, 2020
Unito has unveiled its powerful new workflow management platform. After several years offering the industry's deepest two-way tool integrations, Unito has evolved to meet the growing needs of business leaders. This new offering provides a no-code workflow builder, giving every employee the power to regain visibility into cross-tool work, increase alignment, and save a ton of time and effort.
A company's most important workflows require multiple tools
The average employee now uses 10 software tools per day, and this growing SaaS adoption has made one-tool legacy systems a thing of the past. Your most important workflows inevitably cross the boundaries of several tools before completion, which can slow down work, create tool silos, and generally make it more difficult to collaborate.
The visual workflow designer democratizes the integration process, empowering business leaders and knowledge workers to build out and optimize complex workflows in minutes. Using simple drag and drop technology, you can map workflows which allow information and data to flow across tools. Increased automation functionality has been added to further increase team productivity by eliminating busywork. And Unito is improving how we use our unique cross-tool data to surface insights on team activity.
See the new workflow builder in action: https://youtu.be/i87wjjgpqHQ
"The current state of digital work is really manual and messy. Businesses come to us every single day because they're struggling to track work as it travels between a growing number of software tools — even more so since we were forced to shift to remote work. It has been taking a toll on their ability to align teams and work efficiently," says Unito CEO Marc Boscher. "This new solution allows people to continue working in the right tool for the job while acting as the glue between different software and different teams."
New Monday.com, ClickUp, and Teamwork Integrations
After announcing its Series A funding round in January of 2020, Unito has quickly put that money to good use. The company is also unveiling integrations with three more B2B software leaders.

monday.com, the popular Work OS used by over 100k organizations worldwide
ClickUp, a rapidly-growing productivity and project management platform
Teamwork, a leading work and project management software
"Our partnership with Unito marks a significant milestone to monday.com's customers," said Amit Goldenberg, Head of Tech Partnerships at monday.com. "Now more than ever, working remotely has become a necessity that all companies must take on. The monday.com platform is one that helps facilitate this work, enabling transparency and fast decision making for any person in an organization by having all of the necessary knowledge for their role. Through our partnership with Unito, we've opened up new avenues to our customers to integrate, align their teams, and customize all workflows for their needs."
With the addition of these three industry leaders, Unito's 14 integrations now cover all of the best-in-breed SaaS tools in five core categories: project collaboration, product management, marketing automation, help desk, and version control hosting.
About Unito
Founded in 2015, Unito was created to integrate disparate SaaS applications. It has now evolved into a workflow management solution that allows organizations to build alignment, ease collaboration, and optimize the flow of work across teams and tools. Unito's deep, customizable workflows provide teams with the flexibility to use the tools they want while offering managers greater visibility into and control over work. It does so using two-way integrations between tools including Trello, Asana, monday.com, Jira, Wrike, ClickUp, GitHub, GitLab, Bitbucket, Teamwork, Basecamp, Zendesk, and HubSpot.