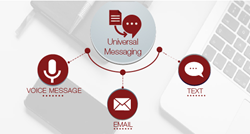 We have been very impressed with the capabilities of the Rapid Notify system. The results have been outstanding for both emergency and non-emergency situations. - Deputy Chief David DeMarco Oak Forest Police Department
(PRWEB) May 10, 2017
Universal Messaging is a standard feature which allows content owners to respond to the different needs and desires of each user in terms of how they interact with their contacts. A Single message can be converted to Voice - E-mail - and truncated editable Text.
HOW IT WORKS?
It allows the client to type a message in an email format, and the Rapid Notify system will convert the typed message to a "wave file", which can be delivered to alert contacts as a voice message. The message will also create a SMS Text message, which can then be edited as desired to deliver the message in an appropriate text message format (generally limited to 140 characters). In addition, the user may listen to samples in a male and female voice and decide which voice they would like to use as default (changeable).
Rapid Notify's text-to-speech implementation provides the most realistic pronunciation of difficult words, with a realistic tone. RN still recommends, as a best practice, that client use live, recorded voice messages for true emergency alerts. This way the client can best create a sense of urgency using voice inflections and emphasis that isn't possible with text-to-speech technologies.
WHY USE UNIVERSAL MESSAGING?
1. Saves lives
2. Saves time and money
3. Integrate workflows
For more information, please visit this link Universal Messsaging.