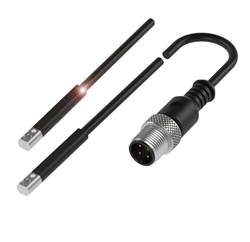 Flush-mountable and available in an extremely short design, Magnetic Field Sensors for C-Slot were designed for space-critical applications.
FLORENCE, Ky. (PRWEB) November 19, 2021
The newest addition to Balluff's portfolio of magnetic field sensors can be used on any pneumatic cylinder with a C-slot, regardless of the manufacturer. The universal design allows the new models to replace several previous versions. Using fewer sensor variants reduces inventory needs and, therefore, costs.
Flush-mountable and available in an extremely short design, these were designed for space-critical applications. They can be inserted from above which allows them to be used where groove ends are closed and lateral insertion is not possible.
The flexible integration and IP67 rating make them especially useful in general automation applications and automotive production, for example, to monitor the piston position on cylinders and grippers. The sensor detects the field of the magnet integrated in the piston through the cylinder wall. Thanks to this non-contact position detection, the sensors function wear-free and reliably, even at high travel speeds.
For more information on magnetic field sensors, visit https://www.balluff.com/en-us/news/magnetic-field-sensors-for-c-slot
Features

Quick installation, firm hold
No contact burning, bouncing, or sticking
One switching point (with LED display)
Applicable for cylinders and grippers with strong or weak magnets
IP67: insensitive to dirt
Suitable for ambient temperatures –25...+85 °C
About Balluff Inc.: Balluff Inc., the U.S. subsidiary of Balluff GmbH, Neuhausen, Germany, is a leading manufacturer of a wide range of inductive, photoelectric, vision, capacitive and magnetic sensors as well as linear position transducers, RFID systems, and networking products. Balluff products for OEM and factory floor solutions are used to control, regulate, automate, assemble, position, and monitor manufacturing, assembly, and packaging sequences for industries including metalworking, automotive, plastics, material handling, wood processing, aerospace, alternative energy, medical, electrical, and electronics.