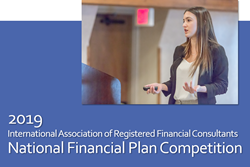 Giving these young professionals a chance to craft a real world financial plan that is the core of the financial consultant's scope of service... Susan M Cappa, IARFC Public Relations
MIDDLETOWN, Ohio (PRWEB) September 28, 2018
The participating universities are:

Bowling Green University – Bowling Green, OH
Bryant University – Smithfield, RI
California State University – Northridge, CA
Central Michigan University – Mount Pleasant, MI
Clarion University – Clarion, PA
Creighton University – Omaha, NB
University of Illinois – Urbana, IL
University of Missouri – Colombia, MO
University of North Florida – Jacksonville, FL
University of North Texas – Denton, TX
University of Wisconsin, Madison, WI
Utah Valley University – Oren, UT
Western Carolina University – Cullowhee, NC
The Plan Competition centers around a case narrative of a fictional family. Students are asked to compose a financial plan and submit it to the IARFC for judging. The competition process is conducted in the following phases:
Phase 1 - Initial plan submissions are judged by experienced financial professionals with six teams chosen to compete in Phase 2 – SEMI FINALS
Phase 2 - Six semi-final teams are judged via recorded sessions by the IARFC Board of Directors resulting in three teams advancing to Phase 3 – FINALS
Phase 3 - Three student teams and their professor travel, all expenses paid, to compete in person at the IARFC Annual Conference in front of conference attendees.
"We are pleased with the participation this year," remarked Susan M. Cappa, IARFC Public Relations. "The challenges students face from the competition process are highly regarded as a positive learning experiences – giving these young professionals a chance to craft a real world financial plan that is the core of the financial consultant's scope of service. It's work, it's instructive and it's fun!"
The IARFC is seeking corporate entities and individuals to sponsors these college students and this event. Contact Susan Cappa for opportunities to fund this highly successful program. "As for judging," continues Ms. Cappa, "I invite everyone to attend the IARFC Annual Conference and be part of the audience who evaluates the teams. You could "BE THE CHANGE" in someone's life!"
For more information on the IARFC National Financial Plan Competition and the Annual Conference, visit http://www.iarfc.org or contact plancomp@iarfc.org.