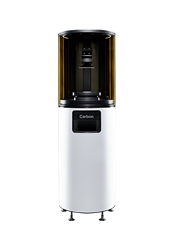 "This program is truly bridging the gap between academia and industry," said Dr. Brent Nowak, founding Executive Director of aMDI. "We are on the cusp of revolutionizing the medical device manufacturing industry."
GRAND RAPIDS, Mich. (PRWEB) January 17, 2019
The half-million-dollar grant from the Grand Rapids SmartZone Local Development Finance Authority will fund a two-and-a-half-year collaborative program that will address the cost and time barriers for medical device innovations entering the market. Grand Valley State University, the applied Medical Device Institute (aMDI), and medical device partner, MediSurge, will utilize groundbreaking 3D printing technology from Carbon, Inc. to create production grade parts using medical grade materials and tolerances to accelerate both the device development and the component manufacturing cycle.
More than a dozen graduate and undergraduate students from Grand Valley's Seymour and Esther Padnos College of Engineering and Computing, along with faculty, will be joining the aMDI team, through applied research opportunities, in a real-world experiential learning environment.
The state-of-the-art Carbon 3D printer technology has been installed in aMDI's incubator space, a world-class lab for health care and medical device startups located in Grand Valley's Cook-DeVos Center for Health Sciences. With only five other universities in the nation leveraging the revolutionary Carbon 3D printing technology on campus, all of which are on the east or west coast, Grand Valley State University and the Grand Rapids SmartZone see the value in providing in-depth, hands-on learning experiences that focus on emerging industry technologies.
"We are thrilled to be the first university in the Midwest to provide students with direct access to this type of innovative technology on campus," said Brent M. Nowak, Ph.D. (Executive Director – aMDI). "This novel 3D additive manufacturing technology, targeting medical grade materials, will soon be the new standard, and this study will be a launch pad for course content that is used in curriculum throughout the university."
The technology for the two-and-a-half year study has been obtained from Carbon, Inc., a Silicon Valley-based digital 3D manufacturing company that made international headlines in 2018 for its trailblazing work with Adidas. Carbon's unique technology offers nine different families of materials that are biocompatible, meaning they are not toxic or harmful to living tissue and can be used in or under the skin. While the use of 3D printing technology has been applied to, and utilized, by many different industries, it has never been an option for final polymer-material-based medical device manufacturing, as existing materials are not safe for intravenous use and printed polymer products could only be used as prototypes.
"Our team was very interested in being a part of this project, as there is a unique dynamic between all three entities," said Andy Savarese, Medical Technology Sales Manager at Carbon, Inc. "This study also provides a platform to teach the engineers of tomorrow different ways to manufacture products, and that is very important to our team at Carbon."
The applied Medical Device Institute, a non-academic unit of Grand Valley State University that leverages strategic industry partnerships and engages students and faculty to bring novel medical devices to market, sees the potential impact that successfully scaling 3D printing manufacturing at production volumes could have on the medical device industry and West Michigan as a whole.
"This program is truly bridging the gap between academia and industry," said Dr. Brent Nowak, founding Executive Director of aMDI. "We are on the cusp of revolutionizing the medical device manufacturing industry, and that will not only grow and retain talent here in West Michigan, but will attract new talent from outside of the region."
The costs and time to market for polymer-based medical devices are growing rapidly with increased regulations, steel tooling, and design validation requirements. The goal of this program is to find the tipping point, in complexity and number of parts, where 3D printing technology will be the method of choice to significantly reduce startup costs and time to market, a benefit for companies of all sizes.
With all three entities, Grand Valley, aMDI, and MediSurge, working together to understand how to best apply this type of technology to the industry, there is significant opportunity to disrupt and enhance current medical device manufacturing practices.
"The current process of launching a new medical device to market in the United States is strictly regulated, highly complex, and expensive, so we understand the importance of perfecting this type of emerging technology," said Bob Taylor, CEO of Alliant Healthcare Products and MediSurge. "Being able to offer this type of novel service would drastically decrease time to market for products and create immense value for customers."
Upon completion of the study, and determining scalability for 3D printing of medical devices at production volumes, MediSurge would be the first medical device manufacturing company in the Midwest to offer this type of service. Because the MediSurge team sees the future value in this project, they have committed to providing funds and engineering throughout the study in partnership with aMDI and Grand Valley State University.
The Grand Rapids SmartZone emphasized its support for the collaborative project that combines applied academics and industry leader expertise. The board's interest in investing was related to the ability to develop models, prototyping, fabricating and testing, as well as business and market viability, commercialization and financing of medical device companies in Grand Rapids. This investment supports the commercialization of technology in the Grand Rapids Certified Technology Park.
"Investing in additional services that expand the offerings to aMDI incubator clients and addresses barriers associated with time to market is a strategic priority of the SmartZone and supports the City's talent development, attraction and retention efforts," said Kara Wood, Managing Director of Economic Development Services for the City of Grand Rapids. "Continuing to develop and foster strategic partnerships between higher education, research institutes and industry leaders is key for Grand Rapids' economic success."
For more information on the project, technology, and MediSurge's involvement, visit http://www.medisurge.com/3Dprinting.
For more information on engineering design and manufacturing services, visit
https://www.gvsu.edu/amdi/3dprinting.
###
About MediSurge
MediSurge is an ISO 13485:2016 certified contract manufacturer based in West Michigan that handles all aspects of the design, development, and manufacturing process. The MediSurge team can plug in at the very beginning, or at any stage of a project. They focus on creating the devices needed, when they're needed, at a cost that makes sense, and with the patient top of mind. For more information, visit http://www.medisurge.com.
About aMDI
The applied Medical Device Institute (aMDI), a first of its kind in West Michigan, is located in Grand Valley's Cook-DeVos Center for Health Sciences on the Medical Mile in Grand Rapids. The institute provides access to researchers, engineers, medical professionals, and business and entrepreneurial professionals. It uses an integrated approach that includes intellectual property, business review and mentoring. It was established in 2016 and is part of the Seymour and Esther Padnos College of Engineering and Computing. Learn more at http://www.gvsu.edu/amdi.
About Carbon
Carbon's mission is to reinvent how polymer products are designed, engineered, manufactured, and delivered, toward a digital and sustainable future. Based in Silicon Valley, Carbon brings together innovations in hardware, software, and molecular science to deliver industry-leading digital manufacturing solutions. With Carbon's ground-breaking Digital Light Synthesis™ technology and broad family of programmable liquid resins, manufacturers can unlock new business opportunities such as mass customization, on-demand inventory, and previously impossible product designs. Carbon's solutions allow customers to build uniquely differentiated products while reducing waste and speeding time to market. To learn more, visit http://www.carbon3d.com.
About Grand Rapids SmartZone℠
Enabled by State legislation, SmartZones℠ are distinct geographical locations in Michigan where technology based firms, entrepreneurs and researchers locate in close proximity to assets, creating a cluster of community institutions. SmartZones℠ are an economic development tool that allows the capture of increased property tax revenues for investment within the SmartZone℠ to foster commercialization of technology and development of high technology-based businesses and jobs. For more information about the Grand Rapids SmartZone Local Development Finance Authority, visit grandrapidsmi.gov/Government/Boards-and-Commissions/SmartZone-Local-Development-Finance-Authority.