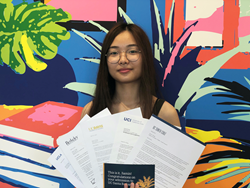 We're extremely grateful to be in expansion mode during these difficult times. Be it at home or in our campus housing, we are laser-focused on ensuring that our students have the widest variety of transfer options and best experience possible during the coronavirus outbreak," said Andrew Ullman
IRVINE, Calif. (PRWEB) October 14, 2020
University Bridge (UBridge), a college pathway program that helps international students transfer to top universities in the United States, announced that it has signed a relationship agreement with Irvine Valley College (IVC). The program, UBridge@IVC, is the fifth host campus for UBridge and will support international students in their journey to transfer to the best fit university for their needs. Given Irvine Valley College's proximity to UC Irvine, many students at this particular campus will participate in the UC Irvine Pathway offered by University Bridge. This is the third UC-specific pathway offered by UBridge, with the previous two aimed at UC Berkeley and UCLA, and offers a guaranteed admissions path to UC Irvine.
The move comes at a time when many international pathway programs are pulling back their U.S. operations due to the severe impact of COVID-19 on international student recruitment. University Bridge has expanded both its overseas recruiting team and its host campus footprint in the United States during 2020. UBridge students can feel comfortable knowing that they will receive full support online during the global pandemic, and in-person once international travel opens up and college campuses resume normal operations.
"We're extremely grateful to be in expansion mode during these difficult times. Be it at home or in our campus housing, we are laser-focused on ensuring that our students have the widest variety of transfer options and best experience possible during the coronavirus outbreak," said Andrew Ullman, co-founder of University Bridge. He adds, "it's exciting for us to be able to offer our students a clear path to entry at UC Irvine through the guaranteed admissions agreement offered by Irvine Valley College. For students aiming to attend UCI, they can live minutes away from the university's campus and start to set their roots in Irvine before making their transfer in just two years."
University Bridge aims to set itself apart from the crowded university pathways space through its CollegeCare® advising services. CollegeCare®, included in the UBridge experience, offers individualized advising from graduates of top universities, including the UC system. This attention to students' needs has led University Bridge to boast campus-wide average GPA's as high as 3.7/4.0 while providing entry requirements as low as 45+ on the TOEFL exam. For several years, University Bridge has been successful in assisting a global student base achieve their U.S. post-secondary dreams.
Co-founder Hayward Majors adds, "Now more than ever, we realize the importance of personalized and focused attention for international students. Whether they are living in our apartments or studying online across the world, University Bridge has worked hard to build a community for our students to thrive academically and socially. At the same time, our students are given the opportunity and time to understand the US educational system and find their best match school for transferring."
As a newer entrant into the pathway space, UBridge aims to expand its presence further through wider outreach of its student-first approach to advising. With student-to-counselor ratios approaching 1,000:1 on some U.S. campuses, UBridge believes international student success is highly correlated with the time advisors have to guide them. UBridge advisors are on-the-ground team members with deep knowledge of the ins and outs of each of its host campuses.
About University Bridge
University Bridge is a U.S.-based pathway provider with a unique and proven approach to helping international students get in to their best match U.S. university. Students attend one of our two-year host colleges and receive extensive wrap-around support in all areas of their academic and social lives. Those schools include: Irvine Valley College, Santa Monica College, College of San Mateo, College of Marin, and Piedmont Virginia Community College. After meeting certain criteria, they are guaranteed admissions into 180+ U.S. universities, including 5 of the top 40: University of Virginia, College of William and Mary, UC Santa Barbara, UC Irvine, UC Davis.
We proudly share in our students' success, with our UBridge participants gaining admissions to institutions such as University of Southern California (USC), UCLA, Berkeley, University of Virginia, University of Michigan, University of California, Irvine, University of California, San Diego, University of California, Davis, Virginia Tech School of Engineering, and many more.
With our comprehensive CollegeCare® support program we pride ourselves on the quality of care we provide students, ensuring they have the guidance they need to transfer to one of the top universities in the world. Further details can be found by vising our website – http://www.ubridge.org
Facebook: https://www.facebook.com/UniversityBridge
LinkedIn: https://www.linkedin.com/company/university-bridge
# # #
For media inquiries, please contact at media@ubridge.org