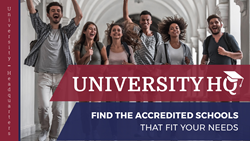 SCOTTSDALE, Ariz. (PRWEB) April 01, 2021
University Headquarters (University HQ), the internet's best source of educational research and career information, is pleased to announce its acquisition of Online MBA Review. The purchase of Online MBA Review will complement University HQ's extensive educational offerings by adding a focus on MBA degrees and the needs of their students. The management team at University HQ anticipates that the new content will mark a new phase in its development.
University HQ specializes in the educational market and provides detailed information on colleges, universities, and degrees for its readership. The website helps students plan their academic careers and subsequent professional lives with complimentary information on how to conduct a successful career. Since an MBA degree can play a vital role in professional success, the acquisition made perfect sense to University HQ's principals.
Going forward, University HQ intends to build on the quality content that Online MBA Review has already established. The websites content creators and web developers can now provide even more details that MBA students need. For instance, it is vital that prospective MBA students have access to all their options and concentration choices. In fact, a student's chosen concentration can determine the trajectory of their career in ways that their undergraduate degree did not. University HQ will expand on this necessary decision with in-depth discussions for each of the more prominent concentration choices. Students also might want to consider a dual MBA, which is an increasingly popular option.
In the past, dual MBA programs primarily were a pairing of Law School with an MBA program. Nowadays, students have many more options. Engineers, computer scientists, and public health experts can now add an MBA to their graduate studies. When University Headquarters' team of researchers and writers focus on this option, students will be prepared to make the most well-informed decision regarding their MBA degrees, and their careers.
University HQ's acquisition of Online MBA Review will be a benefit to students and business professionals who seek to take their careers to the next level. Now that the strengths of both teams are combined, students will have an even easier time finding the information they need. Already, scores of students explore these resources and discover new options for their careers. Since MBA programs have proliferated over the past few decades, their increasing diversity has been terrific for students. However, the incredible number of choices can be difficult to manage, which made this acquisition a perfect fit.
Rather than trying to sort through innumerable university MBA websites to find the exact right program, students can be assured that University HQ's writers have done the hard work for them. Researchers have even done the work of assessing vital educational statistics on the best programs. Thus, every future MBA student can bookmark one website where they will find every possible option for their MBA degree already sorted and researched.
University Headquarters has not only sorted the nation's MBA programs by academic offerings, but the team also parsed them by region. Since many MBA students are already working professionals with families they don't always want to travel across the nation for a graduate program, especially when an equivalent program might be closer to them. Furthermore, University HQ strives to find MBA programs that offer the flexibility of online classes and degrees. Every day students find MBA degree programs that meet their academic and practical needs with flexible online degree or hybrid degree programs.
Now that University Headquarters has acquired Online MBA Review, students will benefit from the consolidation of two great educational resources online. While previous generations were relegated to an endless fishing expedition where they hoped to find the right MBA program, they will now find all of that information under one virtual roof.