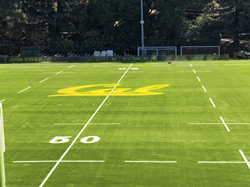 Witter Rugby Field is a very special venue and the new surface makes it that much more special. I have never seen a synthetic field play this naturally.
BERKELEY, Calif. (PRWEB) October 10, 2019
A state-of-the art new turf has been installed at Witter Rugby Field, located on the campus of University of California, Berkeley. This turf replaces the previous turf that was installed in 2011 and putting Cal on the leading edge of field construction.
The project, which was completed on Sept. 3, replaced a turf that had reached the end of its useful life. The turf was provided by Shaw Sports Turf, which has also done projects with major college programs such as LSU, Arkansas and Missouri, as well as multiple NFL and Major League Baseball teams.
The new turf meets World Rugby specifications. The new surface features permanent rugby lines and markings with a script Cal logo at midfield. It includes a state-of-the-art Geofill system that is an environmentally-friendly alternative infill for synthetic turfs. Geofill is comprised of 90 percent coconut and 10 percent natural derived plant-based matter, rather than rubber-based fill. The coconut fibers are completely natural and biodegradable, retain moisture well to help with cooling, and are bacteria-free.
Witter Rugby Field features 111,379 square feet of Shaw Sport Turf's Legion NXT turf system. Legion NXT is made up of a combination monofilament and slit film system and provides the best hybrid synthetic surface on the market. As Shaw Sports Turf's newest turf system, Legion NXT features the brand-new ThunderBolt fiber. This fiber is 20 percent more robust than Shaw Sports Turf's original Bolt fiber for added durability. This system is built for strength, built for pushing the envelope and providing endurance through even the toughest of matchups.
"The previous synthetic turf at Witter Rugby Field required a new surface be put down to create a better and safer playing field for our student-athletes," said Cal senior associate athletics director Josh Hummel. "This surface will provide a top-of-the-line turf solution for our rugby program that is safe, maintainable and can support the numerous activities held on Witter Rugby Field."
"Witter Rugby Field's primary use is for our varsity rugby program, so to invest in an upgraded surface was our driving function," added Hummel. "Like all fields under Intercollegiate Athletics' purview and care, Witter Rugby Field is shared among the greater UC Berkeley student body and community. So, a durable, safe surface for all students' recreational use is extremely important to our department."
Witter Rugby Field serves as the practice and competition facility for Cal rugby. Intramurals events have already taken place at the facility. Cal will play its first home competition on the new turf during the 15s season next spring.
"Witter Rugby Field is a very special venue and the new surface makes it that much more special," said Cal varsity rugby head coach Jack Clark. "I have never seen a synthetic field play this naturally. The field plays true and fast, with this natural cleat-in cleat-out reaction. It's the best surface imaginable and the rugby program is grateful for the improvements."
Cal opens the 7s season on Saturday at the West Coast Collegiate 7s at Cal Poly.
"I'm happy Shaw Sports Turf could be involved with Cal Berkeley Athletics. It was great to work with the athletic department team to make the project happen. This will be something the university can be proud of for years to come," said Shaw Sports Turf Territory Manager, Matthew Cohen.
ABOUT SHAW SPORTS TURF
A wholly-owned subsidiary of Berkshire Hathaway Inc., Shaw Industries is a full flooring provider to the residential and commercial markets. Shaw supplies carpet, hardwood, laminate, resilient, and tile/ stone flooring products, as well as synthetic turf. Shaw Sports Turf is one of the leading synthetic turf companies in North America and has represented quality and innovation for more than two decades with over 3,000 successful installations, including an impressive list of high-profile field installations. For more information please visit http://www.shawsportsturf.com, call 866-703-4004 or find us on Facebook, Twitter, Instagram and Linkedin.