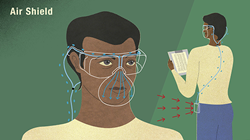 UMD mechanical engineering professor Jelena Srebric, an internationally recognized expert on ventilation, has focused much of her research during the past year on responding to the public health challenges posed by COVID-19.
COLLEGE PARK, Md. (PRWEB) October 01, 2021
A team of researchers at the University of Maryland (UMD) is developing a new type of personal protective equipment (PPE) that is far more comfortable than a surgical mask or N95 ventilator. The solution is designed to benefit workers, who currently face the discomfort and inconvenience of wearing masks for hours at a time.
As an alternative, a UMD team led by mechanical engineering professor Jelena Srebric is designing a solution in which a micro air cleaner supplies a constant flow of purified air to the user while creating an invisible air shield that can block ambient particles that could carry the virus that causes COVID-19.
The project is being funded by the Centers for Disease Control and Prevention (CDC), through a program that supports research designed to assist communities in responding to public health emergencies such as the COVID-19 pandemic.
In the approach being developed by Srebric and her colleagues, goggles are fitted with an airflow system that includes a micro fan and a high efficiency particulate air (HEPA) filter to catch airborne particles. The device also includes a sensor that measures micro pressure, CO2, humidity, and temperature, allowing the device to be calibrated for a tight but comfortable fit. The device can be sterilized with ultraviolet light at the end of each day of use.
"The system is designed to address the discomfort and breathing difficulties that many people experience while wearing masks or ventilators for long periods of time," Srebric said.
"One of the major problems with currently available wearables, such as masks, is that they rely on the user's lungs to push air against the filtering surfaces. Over time, this places a lot of strain on the user and leads to discomfort. Our system solves this problem by including a micro fan. It provides a continuous local air flow, and self-monitors to ensure the pressure is at the right level," she said.
Srebric, an internationally recognized expert on ventilation, has focused much of her research during the past year on responding to the public health challenges posed by COVID-19. Together with colleagues at the University of Colorado, she has been leading a study that identifies ways to resume live music performances, safely. During the presidential election in 2020, she collaborated with University of Maryland public health professor Donald Milton in devising a simple, low-cost solution that can protect against virus transmission at debates and other public events. She has also helped develop air filtration systems for public transportation. Srebric runs the Center for Sustainability in the Built Environment (City@UMD), which conducts research related to public health in urban environments.
In addition to Srebric, the team working on the CDC-funded PPE project include Milton, UMD mechanical engineering associate research professor Shengwei Zhu, and UMD civil and environmental engineering professor Birthe Kjellerup.
###
The A. James Clark School of Engineering at the University of Maryland serves as the catalyst for high-quality research, innovation, and learning, delivering on a promise that all graduates will leave ready to impact the Grand Challenges of the 21st century. The Clark School is dedicated to leading and transforming the engineering discipline and profession, to accelerating entrepreneurship, and to transforming research and learning activities into new innovations that benefit millions.