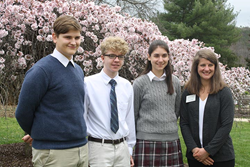 If we could give every young person that same opportunity, I think we would be amazed at what our communities would look like.
CUMBERLAND, Md. (PRWEB) June 19, 2019
Three action-oriented ninth-grade 4-Hers in Allegany County have been approved by their local Farmers Market Association to enact a community project to fight food insecurity in their own neighborhood, led by Jessica Mellon, University of Maryland Extension 4-H educator.
The project, developed by Catherine Vassiliadi, Kenny King and Kaden Burkett, and bourne out of a 4-H Issue Forum on food insecurity and social injustice held in the summer of 2018, focuses on finding excess food in the region and bringing it to the people in need, said Mellon. It is funded by the Maryland 4-H Foundation, through Maryland 4-H program funds and student fees, provided specifically for projects envisioned during the Issue Forum at the University of Maryland campus, and enacted within the students' own communities.
"We came up with the plan to collect up the 'ugly' fruits and vegetables that get wasted and take them to people in need during the Issue Forum, but we had to change it for our community," said Catherine, who is also a 4-H State Council student member.
"The Issue Forum focused on three parts over the three days — framing the issue, discovering through hands on learning, and acting on the issue," said Nia Imani Fields, UMd Extension 4-H Specialist and organizer of the 2018 Issue Forum. "We brought in some stakeholders and also provided resources around developing an action plan so the students could increase their awareness of the issue, identify local partners to help support a call to action, and obtain mini grants to help get the action plan launched."
Kaden, Kenny, and Catherine, assisted by Mellon, began organizing and taking the steps to help establish a healthy food system in their own town, beginning by determining what needs existed in Cumberland, Md., all while managing their time as busy high school students with homework and other extracurricular activities.
"Their big idea was to find extra food and give it to people in need. Great idea, but it's hard to know where to get started," Mellon said. "We spent a lot of time brainstorming what exactly each part of that meant. Where is the extra food? Where are the people who need it? More importantly, as ninth graders, what is feasible for them to do?"
By reaching out to local organizations already concerned with food insecurity, the students were able to recognize that there are residents in Cumberland who are in need of access to fresh, local produce, and they were also able to identify a way to fill that need. "If you are working to address a need in your community, more than likely, there is another organization who has also identified that need and is working toward it as well," said Mellon. "If you can tie your project into someone else's goal, you'll have an instant jump start."
Kaden reached out to the local Union Rescue Mission to find out what types of food they would accept for community dinners and food pantry items. "When you're in a food desert, you have canned food, but you need fresh," said Kaden, who learned about food deserts — areas without easy access to fresh and affordable food — during the 4-H Issue Forum. "The Mission will take fresh produce and even prepared foods," he said.
Kenny, who also participated in the Forum, initiated communication with the local farmers market to find out if it would be possible to collect unused and "ugly" produce for distribution to the Mission, helping families within their own neighborhoods. As a result, the team presented to the Allegany County Farmers Market on April 23, 2019, proposing their full plan and asking for permission to enact it.
With a positive reception from the association and the Mission, Kaden, Catherine and Kenny will volunteer once a week throughout the summer to collect excess food, donated by local farmers, in bins during operating hours, and moving it in wagons from the downtown farmers market, walking it to the nearby Union Rescue Mission, which serves an average 250 meals per day, said Mellon.
Donning 4-H Food Team t-shirts courtesy of Hunter Douglas, Inc., the students' first collection day began with the end of the 2018-2019 school year, and has already resulted in 43 pounds of donated food, said Mellon.
"This is a great way to show the connection between food systems and food deserts. Our communities and environments are all connected, and one way is through food — a basic human need," said Fields. "This project shows how youth can be a part of the change that is needed in terms of caring about a cause bigger than themselves."
The high schoolers are recruiting their peers and classmates as volunteers to assist with their efforts as well. "We've been presenting in front of our homeroom classes at school," said Kaden. "We got permission from our teachers, and we've recruited two other volunteers so far."
The team of 4-Hers also presented their project at the Western Maryland Food Summit, "Our Food, Our Future," a day-long conference featuring panel discussions and research into the issues of food and nutritional insecurity in the region. While the only student 4-H presenters in attendance at the Summit, their project echoed the challenges and solutions of professional plans, and even inspired UME Healthy Living Educator Lisa McCoy to start working on a plan for her community.
"Working with the 4-Hers on this project helped me to refocus on the power of youth," said Mellon. "When given the opportunity to learn something new like food insecurity, frame it within a relevant context with the realization that there are people in their communities and classrooms who aren't getting the food they need, and work with their peers, Kaden, Catherine, and Kenny were and are willing to dig in and work to make a difference.
"Along the way, they learned and practiced skills that will last a lifetime, from big concepts like time management and organization to the smaller things like shaking hands and having appropriate posture during meetings," Mellon said. "If we could give every young person that same opportunity, I think we would be amazed at what our communities would look like."