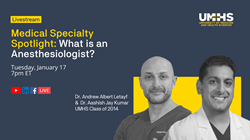 "My goal is to treat patients with chronic pain by treating the source instead of relying on painkillers. I treated a patient with end-stage renal disease who couldn't sit through dialysis. I did a bilateral peripheral nerve implant and she now has 95% pain relief without meds."
NEW YORK (PRWEB) January 31, 2023
The University of Medicine and Health Sciences, (UMHS), a small, mission-driven medical school with a commitment to student support and a legacy of successful residency placements in the United States and Canada, has published the video recording of its recent panel discussion, "Medical Specialty Spotlight: What is an Anesthesiologist?" The event featured UMHS alumni from the class of 2014 who were the first graduates to match into anesthesiology residencies: Dr. Aashish Jay Kumar, Chief Medical Officer and Interventional Spine & Pain Specialist at Spine & Pain Specialists of the Carolinas, in Charlotte, North Carolina, and Dr. Andrew Letayf, Vice Chief Anesthesiologist, Chief of Pediatric Anesthesiology, Director of Obstetrical Services and Envision Physician Services at Bethesda East & West Hospitals, in Boynton Beach, Florida. The discussion focused on how they secured residencies in this highly competitive field of medicine, what makes anesthesiology so challenging and rewarding, what a typical day in the life of their practice looks like, and how compensation and lifestyle compare to other specialties. A recording of the event has been posted to the UMHS Live Events and Meetings page.
UMHS organized the event as part of its "Medical Specialty Spotlight" series focused on career opportunities for medical students. During the discussion, the two doctors discussed their passion for anesthesiology, why they chose UMHS, how their residencies in anesthesiology provided a critical understanding of delivering life-saving care, how the opioid crisis has affected the practice of medicine, and exciting new treatment options that improve patient outcomes.
"My goal is to treat patients with chronic pain by treating the source instead of relying on painkillers," said Dr. Kumar. "I recently treated a patient that had end-stage renal disease. She couldn't sit through dialysis because of her neuropathy. I did a bilateral peripheral nerve implant and she now has 95% pain relief without meds."
The panelists also described the rewards for the extra effort that led to them securing residencies in anesthesiology and the intense training that prepared them for their careers. They discussed the lifestyle advantages of working as an anesthesiologist, their work-life balance, and the compensation that comes with working in their specialized field.
"Most hospitals have a day shift and night shift team," said Dr. Letayf. "I have time to be with my family and time to work. Anesthesia provides a perfect work-life balance and has always paid well. Today in South Florida, it's difficult to find an anesthesiologist. You'll always feel rewarded.'
Dr. Kumar adds, "The more remote an area you go to, the more compensation you'll get."
The talk was the latest in a series of livestream events featuring UMHS students, faculty, and alumni sharing their expertise on topics targeted toward current and prospective medical students and healthcare professionals. Past events include:

"What is a Hospitalist?"
"Alzheimer's Disease & Exploring Research in Medical School"
"Women's Cancer Awareness: Doctors Discuss Ovarian, Cervical, and Breast Cancer Screening"
"Closing the Deaf Gap in Healthcare: Giving a Voice To Deaf Patients"
"Rural Medicine: Making a Difference in Underserved Areas"
"Non-Traditional Medical Student Livestream: A Student's Perspective"
"LGBTQ+ Medicine & Theory"
"Pathways to Practicing Medicine in Canada: UMHS Alumni Share Their Experiences"
"UMHS Women in Medicine: A Conversation About the First Year of Residency,"
"Cardiology: A Discussion About Cardiac Care & Careers in Cardiology,"
"Black Women in Medicine: A Conversation About the Black Experience"
"Ask a Microbiologist," and
"Suicide Prevention and the State of Psychiatry"
Links to view all past discussions may be found by visiting the UMHS live events and meetings page.
About UMHS
The University of Medicine and Health Sciences (UMHS), is a small, mission-driven medical school with a commitment to student support and a legacy of successful residency placements in the United States and Canada. UMHS was founded in 2007 by medical education pioneers Warren and Robert Ross to deliver a highly personalized school experience. Graduates of UMHS earn a Doctor of Medicine degree (MD) and qualify to practice medicine throughout the United States and Canada. Students begin their Basic Science studies in St. Kitts, West Indies, and complete their clinical training in the United States. With an unprecedented 96% student retention rate, the vast majority of students that begin their medical studies at UMHS go on to obtain residencies. For more information, visit https://www.umhs-sk.org/.