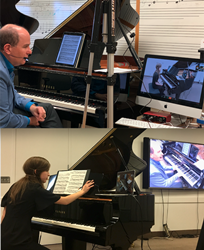 "BYU's acquisition of the Yamaha Disklavier uniquely fits our mission by offering our music students a traditional music education that is enhanced through this unprecedented distance learning technology," said Dr. Scott Holden, keyboard performance division coordinator at BYU.
EUGENE, Ore. and PROVO, Utah (PRWEB) February 27, 2020
The University of Oregon and Brigham Young University (BYU) conducted joint piano master classes this month, even though the teachers and students at each school were more than 800 miles apart.
The universities, located in Eugene, Oregon and Provo, Utah respectively, are among a growing number of pioneering schools nationwide to bring Yamaha "Remote Lesson" technology to their campuses. At the heart of this remarkable, distance-learning protocol is the Yamaha Disklavier, the only instrument capable of bi-directional transmission of highly nuanced performance data – actual key strokes and subtle gradations of pedal movement – between similarly equipped instruments over the internet. By connecting two or more Disklavier pianos located in different states, or even different countries, teachers and students are able to play each others pianos in real time, while sharing their thoughts and critique over video that is synchronized with the piano performance.
Last year, BYU acquired a Disklavier for its School of Music, housed in the Harris Fine Arts Center, following a successful Remote Lesson conducted for BYU students with noted Yamaha artist Frederic Chiu in October 2018. BYU piano technician Rick Baldassin subsequently contacted his colleague and counterpart at The University of Oregon, Mike Reiter, to arrange a Remote Lesson exchange for students at each of the schools. Classic Pianos Portland loaned a Disklavier to The University of Oregon for the Remote Lesson exchange.
On February 5, as three BYU students took turns playing their pieces on the Disklavier situated at their school, Dr. Alexandre Dossin, piano area chair at the University of Oregon observed each performance recreated in real time on a similarly equipped Disklavier—the piano's keys and pedals moving up and down to capture the subtlest nuance as the students intended. After each performance, Dr. Dossin generously offered his words of wisdom to each of the students, advising them on pacing, dynamics, color control and other musical nuances, while playing the Disklavier to visually illustrate his points. With perfectly synchronized video streaming between the two locations, technology disappeared, effectively removing the obstacles of space and time in the world of piano pedagogy. Both teacher and students conversed freely about the master class, performing back and forth to one another, as if they were sitting on the same piano bench in the same room.
A week later, Dr. Scott Holden, keyboard performance division coordinator at BYU, returned the favor by conducting a Remote Lesson with students at The University of Oregon.
"BYU's acquisition of the Yamaha Disklavier uniquely fits our mission by offering our music students a traditional music education that is enhanced through this unprecedented distance learning technology," said Dr. Holden. "BYU is able to offer an exceptional educational experience to our students, bringing other top educators to them from anywhere in the world."
Both universities share a goal of being at the forefront of technological advancement in music education, one that extends beyond Remote Lessons. According to Dr. Dossin, The University of Oregon plans to use Disklavier technology to connect with universities in Australia and Brazil in the future. Similarly, BYU plans to hook up with schools in Australia and China. While each plans to conduct more remote lessons, they also intend to use the technology to recruit students residing in other countries without them having to leave home. Instead, Remote Lesson technology enables them to record their audition performances on local Disklavier pianos, then transmit the performance data to the U.S. Here, their performances are recreated and evaluated at any time on the schools' Disklavier piano and big screen television, with each note delivered faithfully and precisely as the applicant originally intended.
"This is an amazing technology, and makes it easy to connect with colleagues and piano students around the world," said Dr. Dossin.
To learn more about The University of Oregon School of Music and Dance, visit https://music.uoregon.edu. To learn more about Brigham Young University School of Music, visit https://music.byu.edu. To learn more about Yamaha Disklavier Remote Lesson technology, visit http://4wrd.it/YamahaRemoteLesson
-END-
About Brigham Young University – School of Music
Brigham Young University is a private, non-profit research university in Provo, Utah, owned by The Church of Jesus Christ of Latter-day Saints and run under the auspices of its Church Educational System. One of the lasting traditions of BYU is its strong cultural emphasis and support of the fine arts and its School of Music continues this tradition. Undergraduate students pursuing the piano performance degree at have access to a variety of specialized courses designed to ensure success in the professional world. The degree offers four years of intensive training in performance skills, piano pedagogy, collaborative performance and piano literature. Along with keyboard studies, students receive instruction in core classes such as music theory, history, ear training, large ensembles and conducting.
About The University of Oregon – School of Music and Dance
The University of Oregon School of Music and Dance is the premier higher education institution of music and dance in the Pacific Northwest, one of eight distinct schools and colleges that compose Oregon's flagship university. A comprehensive public institution, the UO School of Music and Dance offers courses in choreography-performance, dance education, dance history, dance science, liberal arts studies in dance, music education, music performance, pedagogy, composition, conducting, jazz studies, music theory, musicology, ethnomusicology, music history-literature, music technology, and liberal arts studies in music.
About Yamaha
Yamaha Corporation of America (YCA) is the largest subsidiary of Yamaha Corporation, Japan and offers a full line of award-winning musical instruments, sound reinforcement, commercial installation and home entertainment products to the U.S. market. Products include: Yamaha acoustic, digital and hybrid pianos, portable keyboards, guitars, acoustic and electronic drums, band and orchestral instruments, marching percussion products, synthesizers, professional digital and analog audio equipment, Steinberg recording products and NEXO commercial audio products, as well as AV receivers, amplifiers, MusicCast wireless multiroom audio systems, Blu-ray/CD players, earphones, headphones, home-theater-in-a-box systems, sound bars and its exclusive line of Digital Sound Projectors. YCA markets innovative, finely crafted technology and entertainment products and musical instruments targeted to the hobbyist, education, worship, music, professional audio installation and consumer markets.