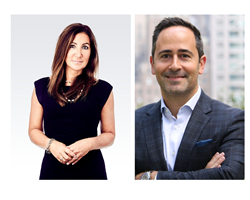 "I'm joining The Forem advisory board because the company goes beyond inspiration and high level lessons, to empower people to take meaningful, practical actions through an actual professional development platform." - David Beck
NEW YORK (PRWEB) March 02, 2021
The Forem, the virtual training program that helps employees build confidence and acquire skills needed to unlock career pathing opportunities, has announced that Univision's, Donna Speciale, and former Warner Media & AMC Network's executive, David Beck, have joined The Forem's Advisory Board. Both based in New York, they will support The Forem's expansion into businesses looking for innovative ways to attract and retain top talent.
Donna Speciale, the newly appointed Ad Sales Chief for Univision, has consistently been honored as one of the "Most Powerful Women" in the media industry for 6 years running. She is known for her commitment to team career development and mentoring and continues to bring people of varied backgrounds together for collaboration and learning opportunities.
"Nurturing, developing and mentoring ALL employees is key to a successful company. The Forem is an organization helping to shape the next generation, providing individuals with the skills, tools and confidence to navigate change and thrive in their career. I am thrilled to help Alli and her team build our next generation," said Speciale.
David Beck, entrepreneur and investor, has built a track record of developing and leading high performing teams, responsible for driving growth and innovation initiatives across the industry at WarnerMedia, TNT, TBS, Turner Sports, AMC, BBC America, IFC, Sundance, Univision, and more. He also co-founded and served as Managing Partner of BRaVe Ventures, a media and technology advisory and investment firm, that he successfully built, scaled, and sold.
"While I'm a big believer that the only person responsible for your career development is you, the best leaders invest in providing their people with effective, actionable training and tools," said Beck. "I'm joining The Forem advisory board because the company goes beyond inspiration and high level lessons, to empower people to take meaningful, practical actions through an actual professional development platform. Inspiration can be found everywhere; turning that inspiration into actionable steps to advance your career is what we need more of, and I'm thrilled to help The Forem lead this effort," says David.
The Forem's virtual training program aims to empower employees to navigate organizational change and build the confidence and skills needed to unlock career pathing opportunities. The Forem has seen a 200 percent growth over the past quarter and more than 100 new companies joined in January 2021 alone. The program also retained 100 percent of its Q4 2020 clients and anticipates that clients will expand to additional employees in the coming months.
"We're elated to bring in the dynamic Donna/David duo to help us scale to the next level of growth," said Alli Young, The Forem founder and CEO. "Donna's deep industry expertise in large media companies and advertising will help position our product suite to the customer segment, while David's experience as an operator and investor will be invaluable throughout our company's evolution. Both are committed to giving back, teaching what they know, and have been fantastic advocates along the way."
The Forem's comprehensive Career Advancement Program empowers employees to own their career development, with a particular focus on moving women and underrepresented minorities up the ladder, faster. By mastering a research-based curriculum anchored on 5 Critical Skills, employees are armed with a toolkit to increase their promo-readiness by scaling impact, raising visibility, and unlocking new opportunities within their career.
For more information on The Forem, please visit http://www.theforem.co.
About The Forem
Founded in 2017 by Alli Young, The Forem's comprehensive end-to-end Career Advancement Program empowers employees to own their career development. The Forem's research based "Five Critical Skills," which are taught through talks, live workshops and a career advancement platform, which aim to enhance ongoing learning. These skills can be leveraged at any stage of a career and are critical to navigating leadership within a corporate culture. The Forem helps members with key components of their career growth including the development of their own personal branding, learning to network, working through interoffice relationships, managing their manager and more. The Forem also pairs members with industry renowned mentors to help them better navigate their career path and goals. For more information, please visit, http://www.theforem.co.