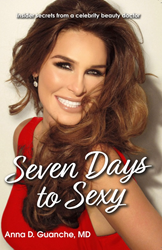 "This is the beauty bible!" - Actress Alyssa Milano
CALABASAS, Calif. (PRWEB) September 13, 2019
Celebrity Dermatologist and beauty expert, Dr. Anna Guanche just released her first book, 'Seven Days to Sexy,' on Amazon! Known as "Dr. Beauty," Dr. Guanche goes beyond skin to blend the latest in cutting-edge medical science on skin, hair and nails with her insider's knowledge of fashion, cosmetics, psychology and style.
"This is the beauty bible!" says actress Alyssa Milano. "Dr. Anna is a perfectionist who knows the secrets for perfecting skin. In her book, 'Seven Days to Sexy,' she explores the science behind beauty and also provides real world tips that women can use in order to look and feel their absolute best!"
If you have ever wondered how celebrities look so stunning and ageless and want to get your hands on their beauty secrets, 'Seven Days to Sexy' is a must read with a revolutionary approach to looking your absolute best.
"From New York to Hollywood and everywhere in between, I developed these beauty tips to inspire confidence: to help people look great and feel even better!" says Dr. Guanche. "Many of my tips are accessible online (on Amazon) and affordable. Afterall, looking and feeling sexy is not just for Hollywood A-listers – it's for everyone!"
The book is packed with realistic and practical advice as well as the ultimate 'insider scoop' on how to look and feel the best that you can! Dr. Beauty shares her personal, and most coveted, tips as well as anecdotes from beauty, style & entertainment icons. Dr. Guanche is the world's go-to glamour specialist for A-List celebrities, actors, supermodels, socialites, and CEOs. She reveals everything you'll need (all the secrets, tips, and tricks) for a super-fast transformation into the sexiest, most gorgeous person you always wanted —and deserve— to be!
"Dr. Anna Guanche is a respected member of the Cosmetic Dermatology community," says acclaimed dermatologist and Professor of Dermatology at NYU, Dr. Doris Day. "After years of preparing supermodels and actresses for the red carpet, I trust she has the insider beauty secrets that take a person's look to the next level!"
Dr. Guanche has been featured in major beauty magazines and national Television shows, and is known for her world-famous 'chic-clinic,' California's Bella Skin Institute. Now, in her new book, readers can experience 'Seven Days to Sexy', and learn to understand that the pursuit of the ultimate healthy, glowing, most radiant and sexiest self can be achieved – this book provides these valuable and essential tools, and it truly is the most incredible Facing-the-Facts-Life-Changing book you'll ever have to read.
About the Author:
Dr. Anna Guanche has been voted Los Angeles Magazine's "Super Doctor" by her peers for seven consecutive years. She is a Fellow of the American Board of Dermatology, a member of the American Academy of Dermatology, American Society for Dermatologic Surgery, and American Medical Association. As an innovator, she is known by her patients as "Dr. Beauty," and often regarded as "The Steve Jobs of Dermatology." Dr. Guanche's patients range from teens and retirees to CEOs and supermoms as well as celebrities such as Rebecca Romijn, Eva LaRue, Miss Universe 2012 Olivia Culpo, singer/songwriter Natalie Imbruglia, Jerry O'Connell, David Boreanaz, Brittany Furlan, McKenzie Westmore, Real Housewives of Beverly Hills Brandi Glanville as well as other A-list celebrities. Dr. Guanche's expertise has been showcased on the Emmy-winning daytime show The Doctors, Extra, and Entertainment Tonight, as well as in ELLE, Glamour, Prevention, Shape, SELF, InStyle, Yahoo!, and HuffPost.