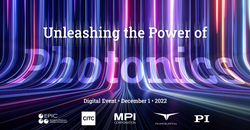 AUBURN, Mass. (PRWEB) November 17, 2022
Following the successful Laser Materials Processing and Semiconductor digital events, PI is hosting a new tech-talk live streaming event on the topic of "Unleashing the Power of Photonics", with speakers from EPIC, CITC, MPI Corporation, Transcelestial, and PI.
Photonics enables innovation in substantial areas of life from consumer electronics and communications to health care, energy, advanced manufacturing, or in cutting-edge fields such as quantum computing. The power of Photonics offers new and unique solutions where today's conventional technologies reach their limits in terms of speed, precision, and efficiency.
Join us in our "Unleashing the Power of Photonics" digital event, where we bring together experts who will tackle the topic from different angles and share their knowledge on market trends, the requirements of cutting-edge photonics applications, and solutions to meet those needs.
Let's unleash this power!
Agenda, Register for the Photonics Tech Talks»
Working with You
PI's in-house engineered solutions have enabled customers around the world to increase their productivity and technological advantage for 5 decades. With a large basis of proven motion technologies and methodologies, PI is in the position to quickly modify existing designs or provide a fully customized OEM solution to fit the exact requirements of your application, including fast photonics alignment engines, multi-axis automation sub-systems, nanopositioning stages for semiconductor manufacturing, microscope scanning stages and piezo transducers / sensors.
PI Americas
http://www.pi-usa.us | info@pi-usa.us | (508) 832-3456