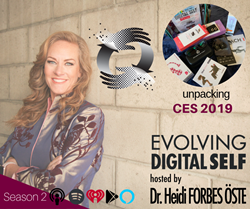 "Digital wellbeing has factors that reach across products, services and industries. There is no taboo on designing things that improve our ability to be better humans," - Dr. Heidi Forbes Öste
SAN FRANCISCO (PRWEB) January 31, 2019
Executive Producer, Dr. Heidi Forbes Öste recently released a new episode of the Evolving Digital Self podcast, "Unpacking CES: Vibrators to Drones." Forbes Öste attended CES 2019 in January which offered the opportunity for tech enthusiasts and creators to have a critical conversation about the need for a focus on humanity and wellbeing in an increasingly tech-focused world. Dr. Forbes Öste is a Behavioral Scientist, Digital Wellbeing Advisor and bestselling Author of the Digital Self Mastery series. She is also the Executive Producer and Host of the Evolving Digital Self podcast.
In her podcast, "From Vibrators to Drones," Dr. Forbes Öste emphasized the need for "wellbeing" and the care of humanity to become first and foremost in the future of technology. She called for humanity to no longer be treated as an afterthought in technological design. CES is the largest tech conference in the US with 180,000 in attendance from more than 155 countries. This venue provided the unique opportunity to get her message of balance to the people and tech designers driving the future of technology in the world. "Digital wellbeing has factors that reach across products, services and industries. There is no taboo on designing things that improve our ability to be better humans," Forbes Öste explained. More than 4500 companies, including 1200 tech startups exhibited at CES this year and shared their future plans for consumer technology while discussing issues ranging from the latest innovations in tech to the ethics surrounding AI.
After attending one of Forbes Öste's speaking events, Dr. Steve Olsher, Creator of New Media Summit said, "The intersection of technology and life has never been more important to be discussing right now. Heidi is a master interviewer and her approachable style is a breath of fresh air." Dr. Forbes Öste is a well-known speaker and podcast host regularly addressing the issues created by technological innovation as it intersects with human needs and ethics. "[Dr. Forbes Öste provides] splendid bridgework, spanning often-inexplicable human behavior to the most advanced technologies of our time. Dr. Forbes Öste has narrowed the gap of communication between mind and machine in a framework that advances enhances health and wellbeing for all of us in the workplace. No matter what work environment we may be," Charlyn Belluzzo, MBA, PhD, ScD added.
To watch the episode "Unpacking CES: Vibrators to Drones," visit: https://itunes.apple.com/us/podcast/episode-106-unpacking-ces-from-vibrators-to-drones/id1324789345?i=1000428709583&mt=2.
To learn more about working with Dr. Heidi please send an email to: DrHeidi@ForbesOste.com. To book Dr. Heidi to speak at your event or organization, please contact Toby at: Toby@ChartwellSpeakers.com.
To watch her interview on the CTA MainStage at CES 2019 visit: http://live.ces.tech/detail/video/5987434382001/gary-s-book-club:-digital-self-mastery-across-generations.
About Dr. Heidi Forbes Öste
Dr. Heidi Forbes Öste has expertise in digital wellbeing, ethics and wearable integration. The Evolving Digital Self podcast covers the human relationship with technology and the impact on the way we work and live. Interviews are with industry leaders, digital wellbeing and productivity solution providers. The show is syndicated across all podcast platforms including iTunes, iHeartRadio, Spotify, Alexa, YouTube, etc... with a current reach of 32 countries. Dr. Forbes Öste is a seasoned moderator and speaker at events varying in scale from CES to NewMediaSummit.
2BalanceU Contact Information
Website: http://2BalanceU.com
Facebook: https://www.facebook.com/DrForbesOste/
Twitter: http://www.twitter.com/forbesoste