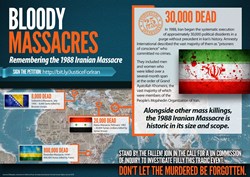 The authorization for the executions was ordered by the highest levels of the Iranian leadership...
Amnesty International
Paris, France (PRWEB) August 09, 2013
On the 25th Anniversary of the Execution of 30,000 Iranian political prisoners, The Foreign Affairs Committee of The National Council of the Resistance of Iran has circulated a petition requesting that the UN High Commissioner for Human Rights, the Human Rights Council and the Special Rapporteur on the situation of human rights in Iran form an investigation commission about the massacre of 1988 and to refer the dossier of this crime to the UN Security Council immediately.
August 5, 2013, Paris France. The National Council of Resistance to Iran (NCRI), the leading opposition to the Iranian Government created a petition asking the United Nations to investigate the Massacre of 30,000 Iranian Political Prisoners in 1988.
Read and sign the Petition here
War Crimes from World War II are still being investigated (See the Australian http://www.theaustralian.com.au/news/world/net-tightens-on-six-nazi-women-suspected-of-death-camp-crimes/story-fnb64oi6-1226694088292 written by David Charter the TimesUK) and yet no one has lifted a hand to find out the details and the individuals behind these crimes against humanity in 1988.
Amnesty International issued a statement in 2008 saying: "The authorization for the executions was ordered by the highest levels of the Iranian leadership … Amnesty International believes that these executions are crimes against humanity... The executions of 1988 must be subject of an impartial and independent investigation, and all those who were responsible be brought to justice …".
(http://www.irantribunal.com/index.php/en/resourses/documents/28-report-of-amnesty-international-on-the-massacre-of-1988) Report of Amnesty International on the Massacre of 1988
From the book: Amnesty International, IRAN
VIOLATIONS OF HUMAN RIGHTS 1987-1990
NCRI and their leadership, President-Elect, Maryam Rajavi near the 25th Anniversary of these incidents remind Iranians all over the world that no one has been held accountable for these deaths yet.
NCRI, a secular organization operating out of Paris, France, continues to be a thorn in the side of the existing Iranian Government. Their opposition of the current Iranian leadership is widely accepted as the most potent and powerful anti regime group operating outside of Iran.