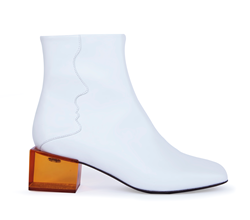 "We've created Unreal Fields for the new league of modern women, the ones shaping the future: the executives, change makers, thought-provokers, leaders," Inês Lebre, founder of Unreal Fields.
LISBON, Portugal (PRWEB) September 04, 2019
Unreal Fields is a Portuguese-based footwear brand founded in Lisbon, focusing on creativity and unique, innovative designs. Entirely women-owned, lead, and run, the company stands to support the local market through partnerships with local designers and manufacturers. Unreal Fields is proud to represent inclusivity, interaction, and timelessly eccentric footwear.
The company will officially launch its first collection on September 5th, which will feature a variety of styles of boots, pumps, and creepers. All products are entirely handmade by family-run Portuguese manufacturers that have been providing footwear to the European market for generations, and as a result, have perfected the highly sought-after element of footwear - quality and comfort. Masters of their craft, these are the very same artisans whose services are used by Europe's major fashion houses.
Instead of operating under the hierarchy of a single designer, Unreal Fields brings creative concepts from a variety of designer collaborations, forming a collective of artistic minds, inspired to bring the dreamiest ideas to life.
The upcoming Fall collection highlights the work of our in-house designer, a well-respected designer who has created for luxury brands like Gucci and Alexander McQueen and will introduce Unreal Fields as a bold, women-led brand eager to showcase a new standard of style and quality. The collection will feature original designs and unique materials, with components like metallic leather, acrylic heels, and embossed leather with crocodile print.
Through matching innovative designs with craftsmanship, the team is dedicated to producing shoes that stand out in a crowd. Playful, creative designs for strong, modern women, made for impact.