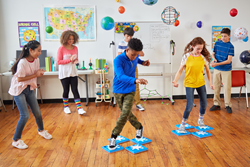 We received hundreds of nominations across our award categories, and the depth and breadth of each and every one of them demonstrates the exceptional leadership of the Massachusetts tech ecosystem. Our congratulations to Bryanne Leeming and Unruly Studios for their well-deserved recognition [...]
BOSTON (PRWEB) November 12, 2019
Unruly Studios, Inc., a Boston-based edtech company that integrates active play with coding for elementary and middle school students, has been named the winner of the Massachusetts Digital Transformation in Education award by the Massachusetts Technology Leadership Council (MassTLC). In MassTLC's 22nd Annual Technology Leadership Awards, Unruly Studios won this prestigious award after a comprehensive peer-judging process. A panel of experts selected finalists and winners from hundreds of nominations across 16 award categories, including the newly created category of Massachusetts Digital Transformation in Education. The annual awards highlight the vitality, innovation and importance of the region's internationally respected technology sector.
Unruly Studios won the award for its one-of-a-kind STEM learning tool, Unruly Splats. Splats are programmable STEM tools that light up, make sounds, and sense when they're stomped on. Students code Splats using the block coding app on a tablet or Chromebook to make their own active games and play them with classmates. Students have created hundreds of their own games including relay races, obstacle courses, and 'zombie tag' to name a few! Bryanne Leeming, CEO of Unruly Studios said, "Thank you so much to MassTLC for this honor. Our incredibly talented team at Unruly Studios worked hard to bring our first product to market, and we are thrilled to win this award. We introduced Splats a year ago and already they are being used in schools in more than 45 states and 6 Canadian provinces. We are extremely grateful to be recognized at this early stage in our company's growth. It is confirmation that we are onto something that can dramatically transform teaching and learning in STEM fields by tapping into the way kids naturally play."
Tom Hopcroft, CEO of Mass Technology Leadership Council, stated, "We received hundreds of nominations across our award categories, and the depth and breadth of each and every one of them demonstrates the exceptional leadership of the Massachusetts tech ecosystem. Our congratulations to Bryanne Leeming and Unruly Studios for their well-deserved recognition as the 2019 Winner in Digital Transformation in Education award. Your dedication and leadership are central to Massachusetts remaining a global hub for tech."
About Unruly Studios:
Unruly Studios is an EdTech company that empowers students to learn critical STEM skills through active, social recess-style play! Their flagship product, Unruly Splats, are super-durable, programmable devices that light up, make sounds, and sense when they are stomped on. Splats were designed as an affordable school-wide tool that integrates easily into a variety of elementary and middle school learning spaces, including: STEM, PE, Technology classes, Libraries, After-School Programs, and Makerspaces.
For more information, visit us at our website or tweet us.
PR Contact:
Lauren Watkins
(617) 710-4364
lauren@unruly-studios.com